Grain Discovery Zone
Play a trivia game and watch videos about Ontario grains
Explore the corn box with farm implement toys
Chat with the Grain Discovery Zone Ambassador
This custom designed, Grain Farmers of Ontario branded, all-weather trailer can be stationed outside or inside an arena or exhibit hall. The trailer has a footprint of 14.125 feet wide x 19.25 feet long. Our Grain Farmers of Ontario flex fuel truck (8.5 feet wide, with mirrors x 19.325 feet long x 6.25 feet high and ground clearance of 8.3") can also be included in the display. Trailer must have access to a power hook-up (110 volt 15 amp power, wired with 30 amp RV plug and adapter to 15 amp). For more information, or to request the Grain Discovery Zone, email graindiscovery@gfo.ca.
Growing Connections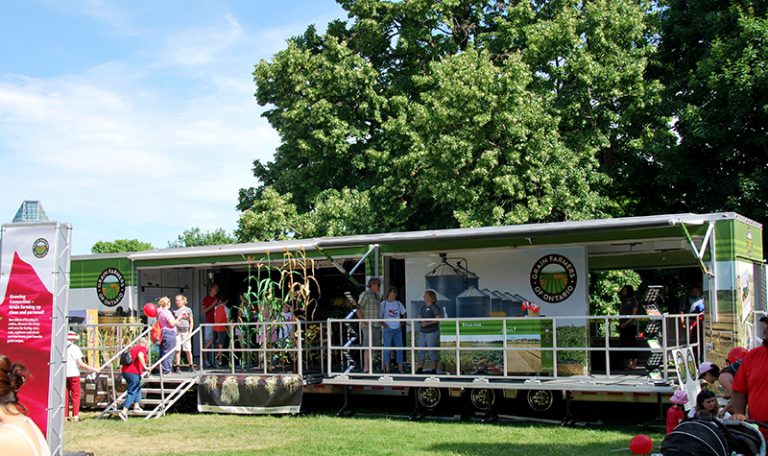 Bookings
No bookings are guaranteed until confirmed by Grain Farmers of Ontario staff. Information and activity sheets are included with all Table Top Displays and Trailer rentals. Promotional items and other materials are available upon request (quantities may vary). For more information, or to request a reservation, contact Brianne Curtis at bcurtis@gfo.ca for more information.
Crop stage featuring model barley, corn, oats, soybean, and wheat plants
Kitchen stage for cooking demonstrations
Video game stage featuring educational agricultural games
Enclosed theatre for viewing videos
Grain products showcase
This 53′ trailer has four stages that fold out to make the trailer 30′ wide. It includes awnings for light rain or shade and can be stationed indoors or outdoors. The trailer includes a mobility lift that can be operated upon request. Minimum two Grain Farmers of Ontario staff set up and run the trailer. Please contact for more information on requirements, scheduling, and cost.
Educational displays for your fair or event!
These displays are free to use for educational purposes. Event organizers must arrange for delivery of the display to and from the Grain Farmers of Ontario office in Guelph. Please contact Brianne Curtis for more information.
Grains in Your Life Matching Game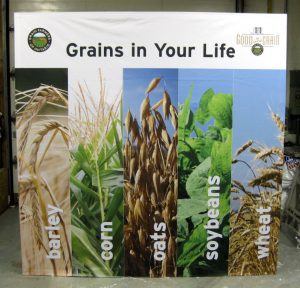 This 8′ square interactive display encourages participants to match end use products with the crops they are derived from. A fabric backdrop features photos of barley, corn, oats, soybeans, and wheat. Large photo cards depict end use products with the crop indicated, and a description of how it is incorporated in the product on the reverse.
Good in Every Grain Boards
This display features two consumer-facing options branded with the public outreach campaign Good in Every Grain, as well as another branded with Grain Farmers of Ontario display. Each display is 4' X 3' and requires a quick and easy on-site set up. Table is not provided.
Seasons Matching Display
This interactive 6′ by 4′ pop-up tabletop display has a lightweight, fabric backdrop divided into barley, corn, oats, soybeans, and wheat, as well as spring, summer, fall, and winter. Magnetized cards feature a farming word or picture, which is matched to the crop and time of year it occurs. Participants learn about the growing stages of the crops and farming practices throughout the seasons.