Ontario Grain Market Commentary, January 13, 2021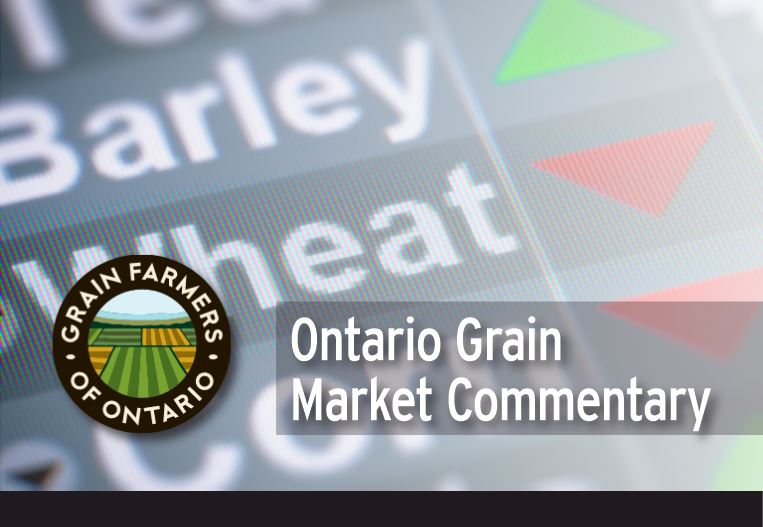 | | | | |
| --- | --- | --- | --- |
| COMMODITY | PERIOD | PRICE | WEEKLY MOVEMENT |
| Corn CBOT | Mar | 5.24 ½ | ↑   29 ½ cents |
| Soybeans CBOT | Mar | 14.06 ¼ | ↑   44 ¾ cents |
| Wheat CBOT | Mar | 6.60 ½ | ↑   13 cents |
| Wheat Minn. | Mar | 6.28 ¾ | ↑   22 ½ cents |
| Wheat Kansas | Mar | 6.25 ¾ | ↑   22 ¼ cents |
| Oats CBOT | Mar | 3.61 ¾ | ↑   2 cents |
|  |  |  |  |
| Canadian $ | Mar | 0.7885 | ↓   8 points |
CORN:
U.S. farmers harvested their 5th largest corn crop this year. Production totalled 14.182 billion bushels. In the recent January report, the USDA reduced the yield estimates from 175.8 bushels per acre down to 172 bushels per acre. Also reduced was its estimate of the 2019 corn carryout. These revised figures, calculated together with acres harvested tallied in below trade expectations. The corn market reacted to this news by locking the nearby corn futures up limit of 25 cents for the remainder of the trading day. Nearby corn futures remain higher the day after the USDA January report.
SOYBEANS:
U.S. farmers also harvested a large soybean crop of 4.135 billion bushels this year. The January WASDE report reduced yields from 50.7 bushels per acre to 50.2 bushels. The USDA also increased demand for both crush and exports, resulting in an expected carryout of 140 million bushels for this crop year. This will be the tightest carry out since the 2013/2014 marketing year.  Soybean futures reacted with a strong rally in the nearby markets of nearly 46 cents.
WHEAT:
The USDA estimates that 32 million acres of winter wheat have been planted in the U.S. this past fall. This can be broken down to 22.3 million acres of hard red winter wheat, 6.23 million acres of soft red winter wheat, and 3.48 million acres of white wheat. The total acreage of winter wheat plantings is in line with the five-year average of 32.66 million acres. Egypt cancelled a recent tender for a Feb – March shipment as offers have jumped nearly $30 per tonne higher than similar tenders offered in the previous month.