Ontario Grain Market Commentary, January 20, 2021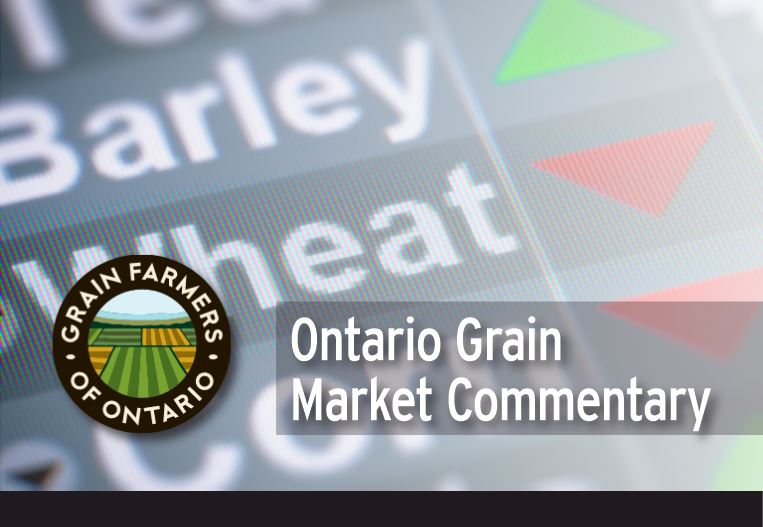 | | | | |
| --- | --- | --- | --- |
| COMMODITY | PERIOD | PRICE | WEEKLY MOVEMENT |
| Corn CBOT | Mar | 5.22 | ↓   2 ½ cents |
| Soybeans CBOT | Mar | 13.69 ½ | ↓   36 ¾ cents |
| Wheat CBOT | Mar | 6.67 ¾ | ↑   7 ¼ cents |
| Wheat Minn. | Mar | 6.37 ½ | ↑   8 ¾ cents |
| Wheat Kansas | Mar | 6.37 | ↑   11 ¼ cents |
| Oats CBOT | Mar | 3.64 | ↑   2 ¼ cents |
|  |  |  |  |
| Canadian $ | Mar | 0.7909 | ↑   24 points |
CORN:
China imported 11.3 million tonnes of corn in 2020. This figure exceeds their annual import quota of 7.2 million tonnes. In 2019, China imported nearly 5 million tonnes of corn. Such an increase in the purchasing of global grains in 2020 is a result of a recovering domestic hog sector coupled with a shortfall in domestic corn supplies.

According to Chinese officials, China will increase corn acreage in 2021. In 2020, China planted 41.3 million hectares (102 million acres) of corn.
SOYBEANS:
Brazilian soybean exports have slowed this month on tight stocks. In the first half of January, Brazil exported 17,500 metric tonnes compared to 630,000 tonnes shipped out in the same period last year. As harvest picks up, Brazilian exports are expected to increase in February.
China imported a record 100.33 million tonnes of soybeans in 2020. Of this total, Brazil shipped 64 million tonnes to China in the same year. 26 million tonnes came from the U.S. This is an increase of 9 million tonnes from the previous year.
WHEAT:
Chicago wheat continues to trade close to highs made in early 2014. The peak in 2014 was $6.93. Russian export tax on wheat shipments and news that the tax will remain past June, is attributed to this current strength in the wheat futures.
Russian exports increased ahead of the implementation of the new export tax. Russia does plan on implementing a higher export tax on wheat in the beginning of March. These taxes have been introduced to offset the rise in domestic food prices.