Ontario Grain Market Commentary, July 1, 2020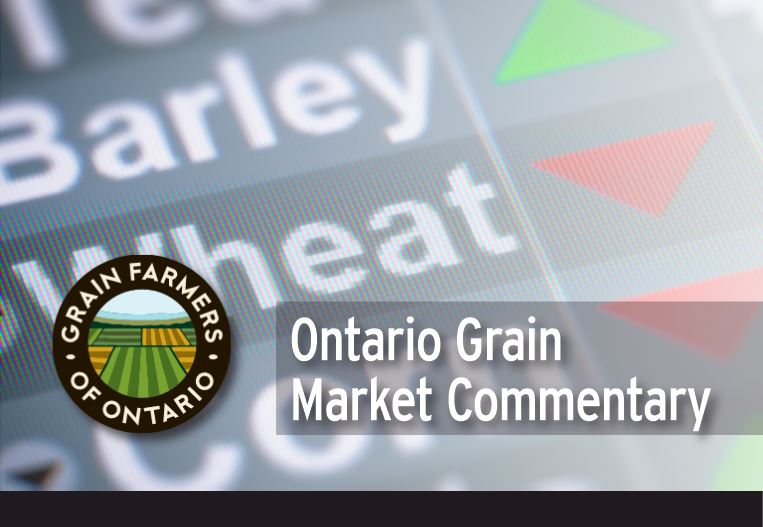 | | | | |
| --- | --- | --- | --- |
| COMMODITY | PERIOD | PRICE | WEEKLY MOVEMENT |
| Corn CBOT | Sept | 3.50½ | ↑ 26 ¼ cents |
| Soybeans CBOT | Sept | 8.91¼ | ↑ 20 ½ cents |
| Wheat CBOT | Sept | 4.98½ | ↑ 17 ¼ cents |
| Wheat Minn. | Sept | 5.17½ | ↑ 1 ¼ cents |
| Wheat Kansas | Sept | 4.42¾ | ↑ 11 ½ cents |
| Oats CBOT | Sept | 2.91¼ | ↓ 13 ½ cents |
| | | | |
| Canadian $ | Sept | 0.7362 | ↑ 12 points |
Corn
The USDA's June acreage report puts corn acres at 92 million. The trade was expecting 95 million while the USDA March estimates for corn were 97 million acres. Corn acres are 5 million acres lower that what was reported in the March planting intentions.
Corn futures climbed on news of the USDA report. Corn futures are trading in areas not seen since the end of March and are currently trading over 30 cents higher than the recent lows in the market as of the date of this report.
Soybeans
According to the USDA, U.S. farmers planted 84 million acres of soybeans. This was an increase of 300,000 acres from the March planting intentions report. The trade was expecting a larger increase in planted acres.
China has booked another 126,000 tonnes of soybeans from the U.S. for delivery in the 2020/2021 crop year. Even with the latest round of Chinese agriculture purchases, they are still well below the US-China Phase 1 trade deal levels.
Wheat
U.S. wheat harvest was 41% complete as of Sunday June 27. This pace, while in-line with the five-year average was slower than what the trade was anticipating.
With unfavourable growing conditions in the EU and Britain, wheat production is expected to drop 10%. There were solid wet periods during fall planting in France and Britain and dry conditions this spring affecting much of Europe.
2020 harvest prices for July 1, 2020, at the market close, are as follows:
SWW at $236.32/mt ($6.43/bu), HRW at $248.80/mt ($6.77/bu) + protein,
HRS at $ 236.32/mt ($6.42/bu) + protein, and SRW at $236.32 /mt ($6.43/bu).
We offer on farm bids for 2020 wheat and 2021 harvest prices as well, please call 1-800-265-0550 for more information.