Ontario Grain Market Commentary, March 24, 2021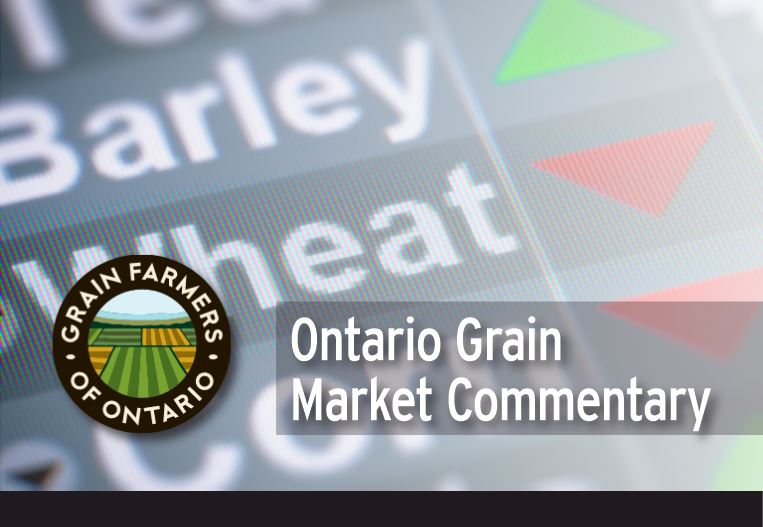 | | | | |
| --- | --- | --- | --- |
| COMMODITY | PERIOD | PRICE | WEEKLY MOVEMENT |
| Corn CBOT | Mar | 5.53 ¼ | ↓   4 ¾ cents |
| Soybeans CBOT | Mar | 14.32 ¾ | ↑   15 cents |
| Wheat CBOT | Mar | 6.24 ¾ | ↓ 15 ¼ cents |
| Wheat Minn. | Mar | 6.27 | ↓ 6 ¼ cents |
| Wheat Kansas | Mar | 5.76 ¼ | ↓ 24 ¾ cents |
| Oats CBOT | Mar | 3.81 ½ | ↑   10 cents |
|  |  |  |  |
| Canadian $ | Mar | 0.7962 | ↓   95 points |
CORN:
The Brazilian Safrinha corn is 90% planted as recent drier weather allowed for an increased planting pace. Planting increased 16% from the previous week. As mentioned in previous reports, much of the Safrinha crop has been planted past the ideal planting window. Strong local corn prices signify more promising returns to Brazilian farmers, despite potentially smaller yields.
South Africa is anticipating a record corn crop. The 2020 -2021 marketing year corn is forecast to be 16.45 million tonnes. Exports are expected to increase 40% to 3.5 million tonnes.
SOYBEANS:
Brazilian soybeans are 59% harvested, versus 72% last year. As Brazil struggles to harvest crops, China continues to buy U.S. soybeans. This increased demand for U.S. soybeans is putting pressure on an already tight U.S. supply which has led to soybean futures hitting levels that we have not seen since 2014.
Chinese imports for January and February of this year are actually down slightly from this time last year. This year China imported 13.41 million tonnes, while 13.51 million tonnes were imported last year during the same period.
WHEAT:
Recent storms have brought much needed moisture to the U.S. southern Plains which have led to improved winter wheat conditions in many winter wheat states. The USDA raised the good-to-excellent rating for Kansas to 45% up from 38% a week ago. 21% of the Kansas crop is poor-to-very poor.
The Ukrainian state weather centre data indicated that 98% of the winter wheat is in good condition. Favourable weather could result in a wheat crop of 75 million tonnes this year, up from 66 million tonnes last year. Exports could reach 53 million tonnes in the 2021-2022 season.