Ontario Grain Market Commentary, November 4, 2020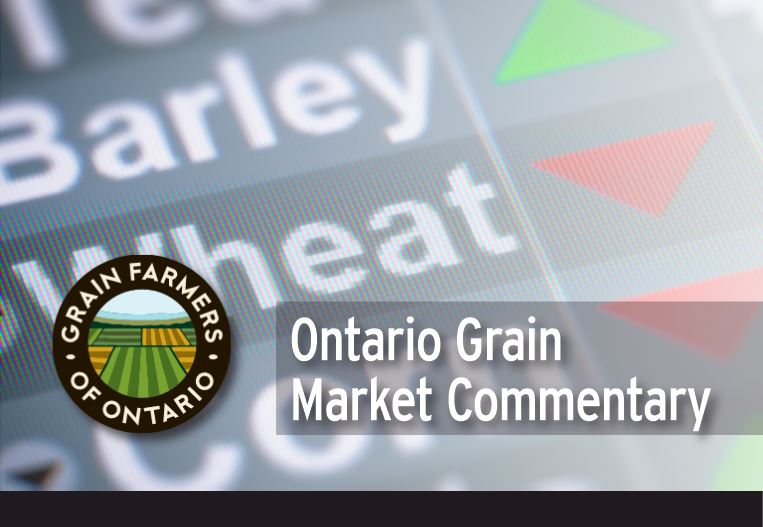 | | | | |
| --- | --- | --- | --- |
| COMMODITY | PERIOD | PRICE | WEEKLY MOVEMENT |
| Corn CBOT | Dec | 4.05 ¼ | ↑ 3 ¾ cents |
| Soybeans CBOT | Jan | 10.76 ¼ | ↑ 31 ½ cents |
| Wheat CBOT | Dec | 6.06 | ↓ 2 ¾ cents |
| Wheat Minn. | Dec | 5.57 | ↑ 5 cents |
| Wheat Kansas | Dec | 5.59 ¾ | ↑ 16 ½ cents |
| Oats CBOT | Dec | 2.96 ¾ | ↑ ¾ cents |
| | | | |
| Canadian $ | Sept | 0.7617 | ↑ 95 points |
CORN:
82% of the U.S. corn crop has been harvested, up 10% from the past week. Michigan harvest is 53% complete while Ohio has completed 41% of their corn crop.
According to the Asian Times Financial, China is considering permits for a million of tonnes of additional corn imports over the coming year due to a huge and growing demand for animal feed in China. Such new orders would place China as the world's top corn importer and could drive up global prices for corn and other grains.
SOYBEANS:
The U.S. soybean crop is 87% complete, ahead of the five-year average of 83%. Closer to home, Michigan soybean harvest is 79% finished and Ohio is 77% complete.
Brazilian farmers are trying to make up for lost time, working as quickly as possible to get their soybeans planted as quickly as possible. In Mato Grosso, farmers started planting on October 25 and plan to be finished by the end of the first week of November. In Parana, the department of Rural Economics reported that 61% of expected soybean acres have been planted. This is an increase of 29% from the previous week.
WHEAT:
The U.S. winter wheat crop national ratings are at their lowest in 20 years. The wheat crop is rated 43% good-to-excellent. These low ratings are attributed to drought conditions over much of the central and southern Plains.
China recently sold 2.7 million tonnes of wheat from state reserves. With increasingly high corn prices and tight supplies, feed buyers were stocking up on wheat as a substitute for corn.
2020 crop year prices for October 21, 2020, at the market close, are as follows:
SWW at $275.46/mt ($7.50/bu), HRW at $282.69/mt ($7.69/bu) + protein,
HRS at $ 251.82/mt ($6.85/bu) + protein, and SRW at $275.46/mt ($7.50/bu).
We offer on farm bids for 2020 wheat and 2021 harvest prices as well, please call 1-800-265-0550 for more information.