Grains Innovation Fund
The 2024 Grains Innovation Fund is now open for applications.
Program Overview
Program Application Form
Under this Market Development initiative, funding is available to support development of new and reformulated products and processes which have the potential to expand the market for Ontario barley, corn, oat, soybean and wheat crops or crop residues. Projects which satisfy the eligibility criteria established for this fund can receive up to 60% of the cost of the project up to a maximum of $75,000.
Interested companies are encouraged to contact Grain Farmers of Ontario before preparing and submitting an application to discuss your project idea. Grain Farmers of Ontario can provide feedback on whether your project meets the program criteria. Contact Hayley Micallef at hmicallef@gfo.ca or or (519) 837-2285.
Eligibility
Amount of Funding
Watch our webinar recording for more information
Eligibility
To qualify for a partnership with Grain Farmers of Ontario and receive monetary support under this fund a company must demonstrate to the satisfaction of the Grain Farmers of Ontario that the project utilizes a minimum of 40 metric tonnes per year of Ontario barley, corn, oats, soybeans and wheat crops or crop residues. The project must also meet at least one of the following criteria:
Open new markets for Ontario grains or grain residues,
Expand the use of, and demand for, Ontario grains or grain residues,
Promote Ontario grains or grain residues as the best choice,
Support development of novel value-added products derived from Ontario grains,
And/or increase the value (premiums) of Ontario grains or grain residues.
Each project is subject to review by Grain Farmers of Ontario and will consider all merits of the project and benefits accruing to Ontario grain farmers, in addition to the amount of grain utilized. The 40 metric tonnes per year requirement may be waived for pilot projects that initially use smaller volumes but must demonstrate the potential to significantly increase future utilization of Ontario grains or grain residue.
Amount of Funding
If a project proposal is deemed eligible, the amount of funding to be provided shall not exceed 60% of the eligible costs associated with the project, up to a limit of $75,000. Grain Farmers of Ontario reserves the right to determine the amount of funding to be allocated to a project based on its ability to contribute to the growth and innovation of the Ontario grain industry.
Watch our webinar recording for more information
Note: This webinar was created in 2022. Funding values have changed.

Market Development at Grain Farmers of Ontario
Market Development works to protect and grow markets by encouraging new uses for Ontario grains while ensuring a strong focus on mitigating potential risks to our domestic and export markets. This is done through key partnerships with industry stakeholders, end users and government.
There are four main areas of focus under market development that work to achieve steady growth by expanding existing and premium markets for Ontario grain. These include:
Domestic market retention and expansion
International market retention and expansion
Sustainability
Market Access
Where does my grain go?
The Ontario grain industry is very complex in nature due to the size of the province, the wide range of transportation options, the interprovincial transfers of grains for certain export markets, the increased use of on-farm storage and the movement of western Canadian grain through Ontario ports. As a result, understanding the current utilization of crops can be challenging.
Although there is a wide range of information available through Statistics Canada and the Ontario Ministry of Food and Rural Affairs (OMAFRA) some important market segments such as domestic grain usage and on-farm usage data is not available. As a result, Grain Farmers of Ontario has put together a comprehensive report, using data and interviews with key stakeholders and industry experts, that outlines each of the key markets for Ontario barley, corn, oats, soybean and wheat.
This comprehensive report works to identify key markets, uses, and opportunities that will help position Ontario grain and oilseeds in a manner that ensures the best opportunities are being provided for Grain Farmers of Ontario's farmer-members.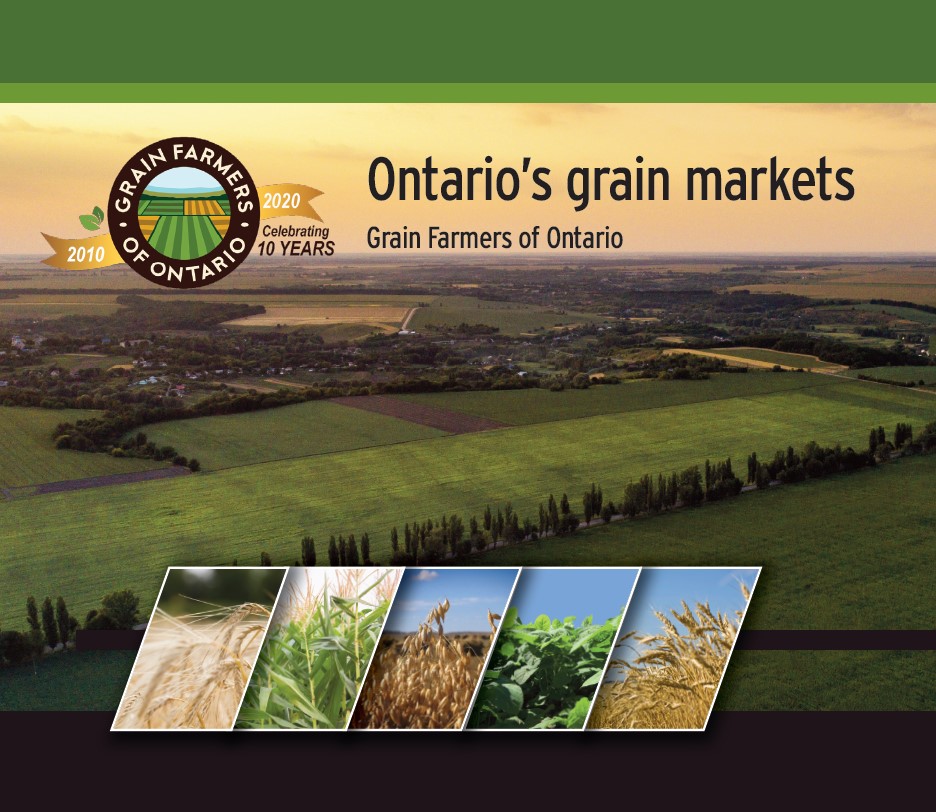 Exports
Exports play a critical role for Ontario with 29% of all grain produced in Ontario exported annually to over 50 different countries. Soybeans is the largest individual crop exported with 53% of production exported each year. Ontario exports 1.575 million metric tonnes of commodity soybeans per year with China, the EU, and the United States as major markets. Ontario also ships 700,000 metric tonnes of food-grade soybeans per year with major markets being Japan, Malaysia, Vietnam and China.
Corn exports have seen significant growth in recent years with over 1.1 million metric tonnes now exported. The major market is the EU with top countries being Ireland, Spain and the United Kingdom. Wheat exports have also been increasing as production has grown; key wheat export markets are the United States, Mexico and Brazil.
Refer to the map below to see all of the major countries Ontario grain is being exported to.