Exporting Grains
If you would like to export Ontario grains, please contact one of companies listed at the bottom of this page.
Sustainability for Exporters
Grain Farmers of Ontario recognizes that our farmer-members need to produce their crops using sustainable methods in order to be economically viable, while ensuring our commitments to both the environment and society.
SAI Platform
The SAI Platform is the main food and drink industry initiative supporting the development of sustainable agriculture worldwide. In 2002, Nestle, Unilever and Danone came together to create the SAI Platform. Today, there are over 100 members including companies such as Cargill, Coca-Cola, Ingredion, McDonalds and Kellogg's.
Farm Sustainability Assessment (FSA)
The FSA is a questionnaire that allows farmers to assess and improve sustainable agriculture practices. Made up of 112 questions, farmers will answer the questionnaire based on their farm business and the practices they employ on the farm. Depending on the responses, farmers will be given a score of 'not yet bronze', 'bronze', 'silver' or 'gold'. Depending on the market, some end users are looking for farmers to be within a certain range.
Farmers can use the FSA to assess and improve sustainable agriculture practices and communicate to customers in a consistent format.
How can exporters use the FSA to meet customer demands?
The FSA is a farmer self-assessment tool which allows farmers to assess their operation as it relates to the 3 pillars of sustainability; economic, social and environmental. If you are an exporter or company that is being asked about sustainability, the FSA will allow you to help meet these market demands.
First you must create a farm management group (FMG). This can simply be a group of farmers growing a certain variety, a commodity or based on participation in a specialized IP program. A FMG can have as few as 1 farmer in it, to over 20,000. Farmers participating in the FMG will be selected to go through the FSA.
Once a FMG group has been selected, the next step will be to have farmers go through the Farm Sustainability Assessment (FMG). Not all farmers in the FMG will be required to go through the FSA. A random sample from the total farmers in the group will be selected. The sampling is based on statistical sampling methods with a fixed accuracy of 12.5% to ensure a stable outcome of sampling results. Depending on the number of farmers in the FMG, a certain number of farmers will be selected to go through the FSA. Please see the chart below:
For example, if you have 15 farmers in the FMG only a total of 10 will be required to go through the FSA.
| | | | | | | | | | | |
| --- | --- | --- | --- | --- | --- | --- | --- | --- | --- | --- |
| # Farms in Group | 0-10 | 11-20 | 21-30 | 31-50 | 51-100 | 101-200 | 201-300 | 301-400 | 401-500 | 500-1K |
| Self-Assessment Sample Size | 6 | 10 | 13 | 17 | 23 | 29 | 33 | 34 | 35 | 37 |
| # Farms in Group | 1K-2K | 2K-3K | 3K-4K | 4K-5K | 5K-7.5K | 7.5K-10K | 10K-20K | 20K-30K | 30K+ | |
| Self-Assessment Sample Size | 39 | 39 | 39 | 40 | 40 | 40 | 40 | 40 | 41 | |
For certain markets, 3rd party verification may be required. This means that a 3rd party will check the reliability of the data supplied by a farmer and the quality of engagement with the farmers by the management group. In Canada, the Canadian Seed Institute (CSI) has been used as the verification body. Similarly, to step 2, not all farmers who went through the self-assessment will need to be verified. The verification body will randomly select several farms to be verified. These will be selected from those farmers who went through the FSA self-assessment. Below is a chart highlighting the number of farmers to be verified based on the sample size.
For example, if you have 10 farmers in the FMG that have gone through the FSA self-assessment, only a total of 4 will be required to be verified.
| | | | | |
| --- | --- | --- | --- | --- |
| # Farms Self-Assessed | 0-10 | 11-20 | 21-30 | 31-50 |
| Audit Sample Size | 4 | 5 | 7 | 9 |
After completion of the FSA self-assessment you are now able to make claims for the total volume that the group of farmers produce. This means that they claim x% of the total volume within the group is gold, silver, bronze and/or not yet bronze. An administrative system needs to be set up to monitor volumes from the farm management group. The scores of the farmers within a FMG should be extrapolated to the volume sourced from all farms in the group according to the mass balance. That result is the total claim of the farm management group. For example, if 40% of the farms in a management group are silver level FSA, then 40% of the volume from that management group is also bronze level FSA.
Canadian Field Print Initiative (CFPI)
The Canadian Field Print Initiative (CFPI) was initially developed in 2013 as an industry level initiative that looks to create a market-driven, science and outcomes-based metrics and tools measuring the environmental performance of Canadian crop production. The CFPI represents a diverse group of stakeholders working collaboratively on a shared vision of sustainability-based performance measurement. Participation includes commodity associations, industry representatives and end use companies.
A part of the CFPI, a national level indicator report was produced which summarizes the sustainability story across Canada for grain and oilseed production. This national indicator report looks at crops based on province and showcases the environmental improvements we have made since 1981 in the areas of land use efficiency, soil loss risk, climate impact and energy use.
To download the report, please click here.
Canadian Field Print Calculator
The Canadian Field Print Calculator is an easy-to-use, farm-level measurement tool that allows growers to confidentially assess and document their environmental performance. The calculator is an Excel-based tool that requires basic information on farming practices, soils, and climate to model a crop's estimated sustainability based on four indicators: Land Use Efficiency, Energy Use, Climate Impact, and Soil Erosion Risk. Farmers would input some basic information on farm practices and field operations data. Information includes: crop planted, acreage and yield, Horsepower for your tractor, sprayer, and combines used on that field, hours spent on each fieldwork pass (cultivating, seeding, spraying, combining), and application rates for N, P, K and other fertilizers. It takes around 15 minutes to input data for a field. After inputting this information, a farmer would be provided with an output document to see their sustainability.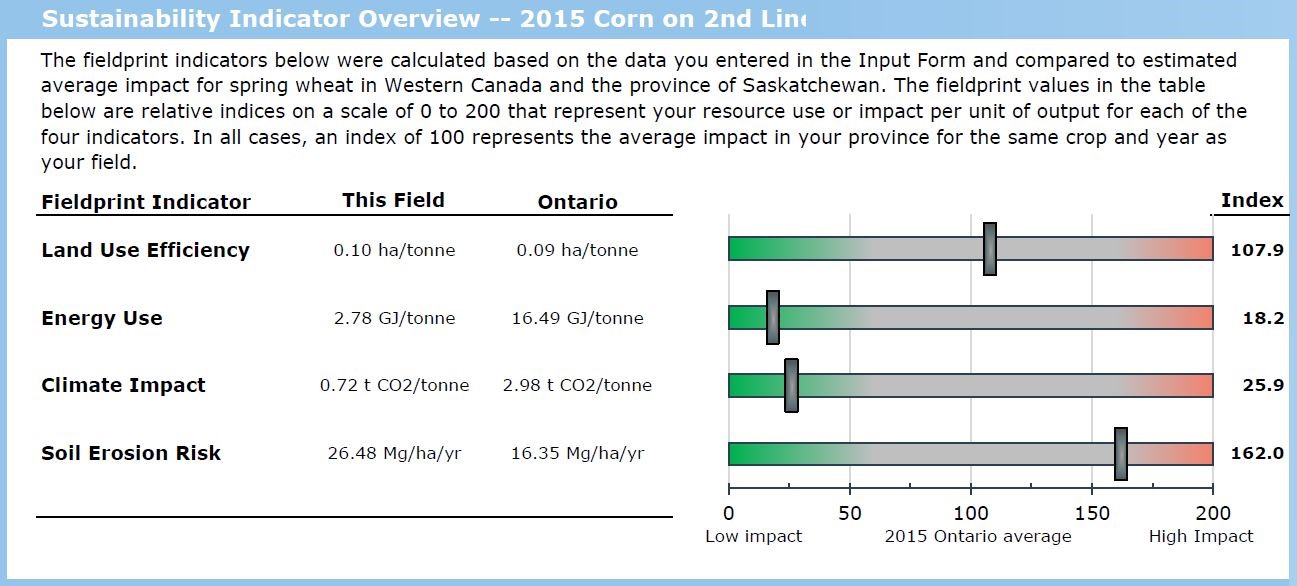 Using the CFPI calculator
As this is a field-to-field farm level tool, farmers will go through either the excel or online calculator tool and fill out their production variables for a commodity. If a farmer is already inputting data into a separate data software, an Application Program Interface (API's) can be used to link data sets so there is no duplication of efforts.
The inputted data needs to be processed. If this is done on excel calculator this will be done manually. If this is on the online calculator tool this will be real time.
The data will be processed to provide participants with a five-page report outlining the estimated sustainability of their crop against the provincial average for the four indicators of land use efficiency, soil loss risk, climate impact and energy use and have this compared against the provincial average for the four indicators.
---
Grain Exporters
| Dealer Name | Address | Phone | Commodities |
| --- | --- | --- | --- |
| Broadgrain Commodities | 3963 Perth Road 183, RR #4 Seaforth, Ontario N0K 1W0 | (519) 345-0500 ext. 206 | Corn |
| Cargill Limited | 765 Exeter Road; Unit B14 London, Ontario N6L 1G4 | (519) 691-8100 | Corn |
| Hensall District Co-Operative | P.O. Box 219 Hensall, Ontario NOM 1XO | (519) 262-3002 | Corn |
| Ingredion | Suite 460-401 The West Mall Etobicoke, Ontario M9C 5P7 | (416) 620-2300 | Corn |
| Richardson International Limited | 155 Eastport Blvd Hamilton, Ontario L8H 7S3 | (905) 545-3270 | Corn |
| London Agricultural Commodities | 1615 North Routledge Park, Unit 43 London, Ontario | (519) 473-9333 | Corn, Soybeans |
| Louis Dreyfus Canada Limited | Suite 1400; 333 11th Avenue SW Calgary, Alberta T2R 1L9 | (403) 205-3322 | Corn |
| Parrish & Heimbecker Limited | 36 King Street East, Suite 700 Toronto, Ontario M5C 2L9 | (416) 360-7178 | Corn, Soybeans |
| Thompsons Limited | Box 250-2 Hyland Drive Blenheim, Ontario NOP 1AO | (519) 676-5411 | Corn, Soybeans |
| Timmermans Elevators, Ltd. | RR #5 Stratford, Ontario N5A 6S6 | (519) 393-6010 | Corn |
| Beechwood Agri Services | 123 King Street Parkhill, Ontario N0M 2K0 | (519) 294-0474 | Soybeans |
| Broadgrain Commodities | 133 Richmond street West, Suite 408 Toronto, Ontario M5H 2L3 | (416) 504-0070 | Soybeans |
| Bunge Canada | 4605-b Lapiniere, Office 160 Brossard, Quebec J4Z 3T5 | (450) 462-6167 | Soybeans |
| Dennis Jackson Seed Service, Ltd | 1315 Jackson Street Dresden, Ontario N0P 1M0 | (519) 683-4413 | Soybeans |
| DG Global | 687 Glengrove Avenue West Toronto, Ontario M6B 2J2 | (416) 782-1942 | Soybeans |
| Elite Grain L.P. | 900 L'Acadie boul., Suite 200 Montreal, Quebec H4N 3H7 | (514) 858-2037 | Soybeans |
| Field Farms Marketing, Ltd. | 4922 Lasalle Line Petrolia, Ontario N0N 1R0 | (519) 882-2976 | Soybeans |
| Globeways Canada, Inc. | 120 Traders Blvd. Suite 118 Mississauga, Ontario L4Z 2H7 | (905) 252-4933 | Soybeans |
| Huron Commodities, Inc. | P.O. Box 135 Clinton, Ontario N0M 1L0 | (519) 482-8400 | Soybeans |
| IP Agri Trading, Inc. | 2513 Beacon Ave., P.O. Box 2748 Sidney, BC V8L 5Y9 | (250) 655-6688 | Soybeans |
| Semences Prograin, Inc. | 145 Bas-de-la-Riviere Nord St-Cesaire, Quebec J0L 1T0 | (450) 469-5744 | Soybeans |
| Sevita International | 11451 Cameron Road Inkerman, Ontario K0E 1JO | (613) 989-3000 | Soybeans |
| SG Ceresco, Inc. | 164, chemin de la Grande-Ligne St-Urbain-Premier, Quebec J0S 1Y0 | (450) 427-3831 | Soybeans |
| Snobelen Farms, Ltd. | P. O. Box 29 Lucknow, Ontario N0G 2H0 | (519) 528-2092 | Soybeans |
| South West Ag Partners, Inc. | 40 Centre Square, Suite 200 Chatham, Ontario N7M 5W3 | (519) 380-0002 | Soybeans |
| St-Lawrence Beans, Div. of Agrocentre Belcan, Inc. | 180 Ste. Marie Ste Marthe, Quebec J0P 1W0 | (450) 459-4288 | Soybeans |
| ADM Milling Co. | 7585 Danbro Crescent Mississauga, Ontario L5N 6P9 | (905) 819-7000 | Wheat |
| Ardent Mills, Ulc. | 235 Nugget Court Brampton, Ontario L6T 5H4 | (905) 494-2600 | Wheat |
| Brant Flour Mills, Ltd. | R.R. #4 Scotland, Ontario N0E 1R0 | (519) 484-2921 | Wheat |
| Grain Process Enterprises, Ltd. | 105 Commander Blvd. Scarborough, Ontario M1S 3M7 | (416) 291-3226 | Wheat |
| Howson & Howson,  Ltd. | 232 Westmorland Street, P.O. Box 390 Blyth, Ontario N0M 1H0 | (519) 523-4241 | Wheat |
| P & H Milling Group | 1060 Fountain Street North Cambridge, Ontario N3E 0A1 | (519) 650-6400 | Wheat |
| Port Royal Mills | 240 Industrial Parkway South Aurora, Ontario L4G 3V6 | (905) 713-1712 | Wheat |