Ontario Grain Commentary, April 29, 2020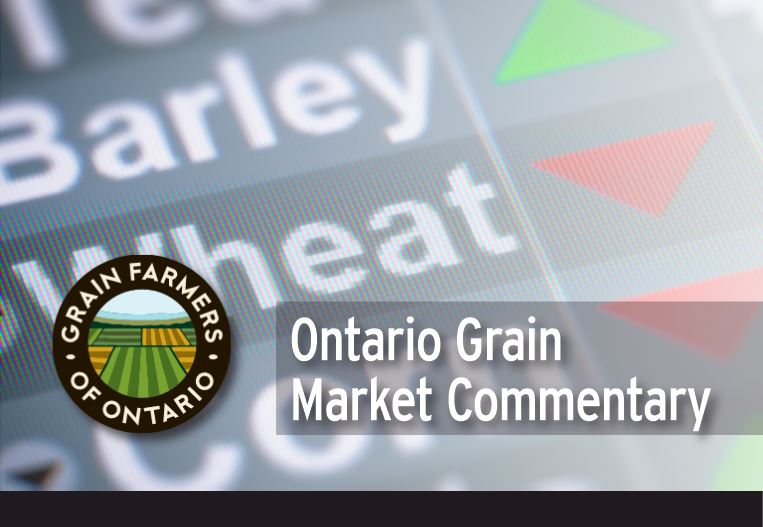 | | | | |
| --- | --- | --- | --- |
| COMMODITY | PERIOD | PRICE | WEEKLY MOVEMENT |
| Corn CBOT | May | 3.04½ | ↓ 13 cents |
| Soybeans CBOT | May | 8.31¾ | ↓ 3 cents |
| Wheat CBOT | May | 5.19½ | ↓ 23 ½ cents |
| Wheat Minn. | May | 4.92 | ↓ 11 ¾ cents |
| Wheat Kansas | May | 4.67¾ | ↓ 3 ¼ cents |
| Oats CBOT | May | 3.06½ | ↑ 3 ¼ cents |
| | | | |
| Canadian $ | Mar | 0.7202 | ↑ 144 points |
Corn
As of Sunday, April 26, 2020, U.S. corn was 27% planted.   This is ahead of the five-year average; a pace that has not been seen in many years. Michigan and Ohio have planted 3% of their expected corn acreage.
With slaughterhouses closing due to the Covid-19 pandemic, domestic corn markets are shrinking in the United States. Close to two-thirds of U.S. corn goes to domestic feed markets or into ethanol production, which there is also less demand for. Corn export markets have slowed as ports back up due to worker shortages as workers are reportedly staying home to avoid contracting COVID-19.
Soybeans
The USDA estimates that 8% of the expected soybean acres have been planted. Like corn, this planting pace is above the five-year average. Ohio is 2% complete, and Michigan is 4% complete.
Soybean shipments from the United States to China were 1.71 million tonnes for the month of March, up from last year's 1.51 million tonnes. Shipments from Brazil fell from last years volume, though 2.1 million tonnes were shipped. The reduction was in part due to a later harvest start in Brazil and from a traditional slowdown in soybean imports at this time of the year.
Wheat
The USDA has rated the U.S. winter wheat crop as 54% good to excellent, a 3% drop from the previous week.
Argentina has planted their largest acreage in over a decade at 16 million acres and are expected to harvest 20.2 million tonnes of wheat this crop year. Brazil is expected to be the main importer of this Argentinian wheat crop.
2019 cash prices for April 29, 2020, at the market close, are as follows:
SWW at $270.14/mt ($7.35bu), HRW at $277.80/mt ($7.56 /bu),
HRS at $ 228.05/mt ($6.21/bu), and SRW at $270.14 /mt ($7.35/bu).
We currently offer 2020 and 2021 harvest prices as well, please call 1-800-265-0550 for more information.