Ontario Grain Market Commentary, May 5, 2021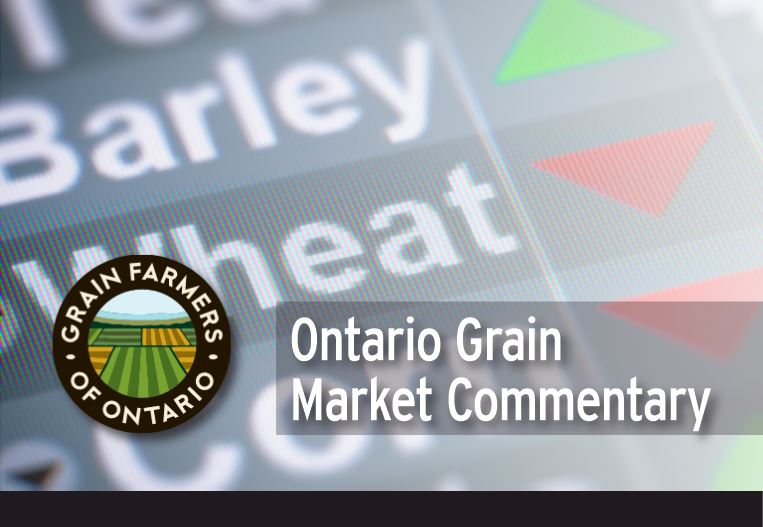 | | | | |
| --- | --- | --- | --- |
| COMMODITY | PERIOD | PRICE | WEEKLY MOVEMENT |
| Corn CBOT | Mar | 7.08 | ↑   64 ½ cents |
| Soybeans CBOT | Mar | 15.42 ¼ | ↑   28 ½ cents |
| Wheat CBOT | Mar | 7.44 ½ | ↑   21 ¾ cents |
| Wheat Minn. | Mar | 7.81 ¼ | ↑   16 ¼ cents |
| Wheat Kansas | Mar | 7.17 | ↑   20 ½ cents |
| Oats CBOT | Mar | 4.17 | ↑   9 ½ cents |
|  |  |  |  |
| Canadian $ | Mar | 0.8146 | ↑   23 points |
CORN:
As of last Sunday, the U.S. had planted 46% of the expected corn crop. This is up 29% from the previous week and ahead of the five-year acreage of 36%.
Corn futures moved past the $7 per bushel threshold for the first time since 2013 on continued concern over dryness in Brazil and the resulting threat of tightening global corn supplies.
SOYBEANS:
The U.S. has planted 24% of their expected soybean acreage. This is up from 8% last week and ahead of the five-year average of 11%.
The International Grains Council (IGC) has pegged global soybean production at 383 million tonnes, up 6% from last year. Global trade is estimated to be 173.45 million tonnes, which is up marginally from the previous year. The IGC is also projecting that China will buy 103.8 million tonnes of soybeans in 2021 -2022, which represents 60% of the global trade.
WHEAT:
The European Commission lowered its forecast of soft wheat to 124.87 million tonnes, down 1.9 million tonnes from the previous estimates.  Though down, this year's production is still above that of the previous year. Exports are projected at 27 million tonnes.
U.S. Production of whole wheat flour in the January to March timeframe was down 18% from production levels in the first quarter of 2020. Whole wheat flour production has been trending lower over the past few years.