Ontario Grain Market Commentary, April 28, 2021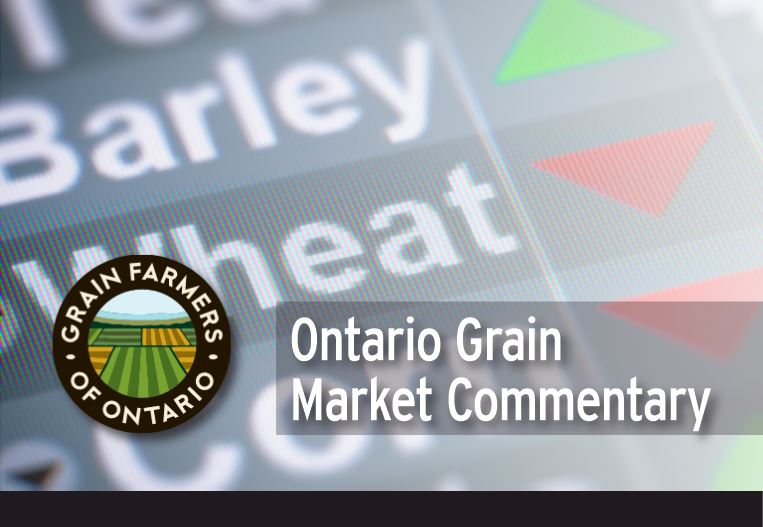 | | | | |
| --- | --- | --- | --- |
| COMMODITY | PERIOD | PRICE | WEEKLY MOVEMENT |
| Corn CBOT | Mar | 6.44 | ↑   37 ½ cents |
| Soybeans CBOT | Mar | 15.13 ¾ | ↑   34 ¼ cents |
| Wheat CBOT | Mar | 7.22 ¾ | ↑   47 ¾ cents |
| Wheat Minn. | Mar | 7.32 | ↑   55 ½ cents |
| Wheat Kansas | Mar | 6.96 ½ | ↑   58 ¾ cents |
| Oats CBOT | Mar | 4.07 ½ | ↑   13 cents |
|  |  |  |  |
| Canadian $ | Mar | 0.8123 | ↑   120 points |
CORN:
Continued dryness in Brazil has farmers there worried that Safrinha corn yields could be lower than earlier estimates. With a good portion of said corn crop planted late, adverse weather could have a noticeable impact on production levels.
As of last Sunday, The U.S. had planted 17% of their expected corn acreage. This progress is below that of the 5-year average of 20%. With issues in Brazil and delays in U.S. planting, combined with an expected tighter U.S. corn carryout, corn futures have had an impressive rally this past month. Nearby futures have moved up nearly 60 cents during the past week. Local cash prices remain strong, especially for old crop corn.
SOYBEANS:
As of the past Sunday, April 25, U.S. farmers had planted 8% of the expected soybean acreage. This pace is faster that the 5-year average of 5%.
Statistics Canada indicates that Canadian farmers will plant 5.3 million acres of soybeans this season. This is up 5.5% from 2020. Production in Ontario is expected to reach 2.9 million acres this year, up 2% from last year.
WHEAT:
Multi-year high corn prices have resulted in Asian feed manufacturers switching to wheat in their animal rations. Collectively, buyers from China, South Korea, and Vietnam are expected to buy over 25 per cent of global corn supplies this year. Therefore, any substitution for alternative feed sources will likely impact global grain trade.
The USDA has rated 49% of the U.S. winter wheat crop as good-to-excellent. This is a decline from the 53% rating from last week. U.S. Spring wheat plantings are 28% complete, which is above the 5-year average and within trade expectations.