Ontario Grain Market Commentary, April 14, 2021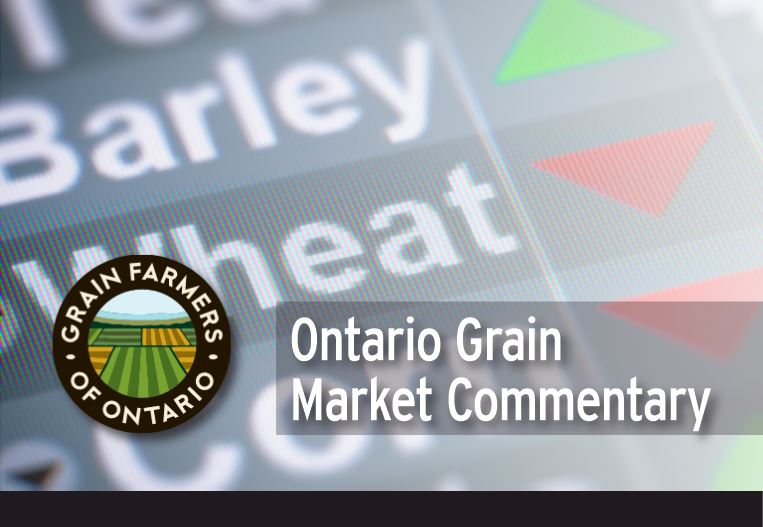 | | | | |
| --- | --- | --- | --- |
| COMMODITY | PERIOD | PRICE | WEEKLY MOVEMENT |
| Corn CBOT | Mar | 5.94 | ↑   33 ½ cents |
| Soybeans CBOT | Mar | 14.10 | ↑   1 ¼ cents |
| Wheat CBOT | Mar | 6.48 | ↑   31 ¾ cents |
| Wheat Minn. | Mar | 6.61 | ↑   36 ½ cents |
| Wheat Kansas | Mar | 6.03 ½ | ↑   40 ¼ cents |
| Oats CBOT | Mar | 3.82 ½ | ↑   311 cents |
|  |  |  |  |
| Canadian $ | Mar | 0.7987 | ↑   62 points |
CORN:
Below normal rainfall is expected for Brazil during the months of April to June. This has raised fears of potential yield declines of the corn crop. Such concerns over potential weather impacts on the safrinha corn crop has led farmers to limiting their sales. In turn, buyers are struggling to replenish stocks.
SOYBEANS:
Brazilian soybean harvest has surpassed the five-year average pace. Farmers have harvested 85% of their crop, compared to the five-year-average of 78%. Forecasts for the soybean production for the 2020-2021 marketing year are estimated to be 133 million tonnes.
China's imports of soybeans were very strong in the first quarter of this calendar year, due to strong demand from the livestock sector. Imports for the first 3 months of this year were 21.18 million tonnes, up 19% from the previous year. March imports alone were almost double from the year prior. 7.77 million tonnes were shipped, up 82% from last year.
WHEAT:
There was some recent short-lived weakness in the Chicago wheat futures, on concerns of weakening export demand for U.S. wheat, amid talk of a potentially large Russian crop.
The Institute for Agricultural Market studies (IKAR) has raised its forecast for Russia's 2021 wheat crop to 81 million tonnes from 79.8 million tonnes.
Dry weather has the futures markets moving higher once again. There has been little rain in parts of the southern Plains where hard red winter wheat is emerging from dormancy. 53% of the U.S. winter wheat crop is rated good-to-excellent, down from 62% for the same week last year.