Ontario Grain Market Commentary, April 7, 2021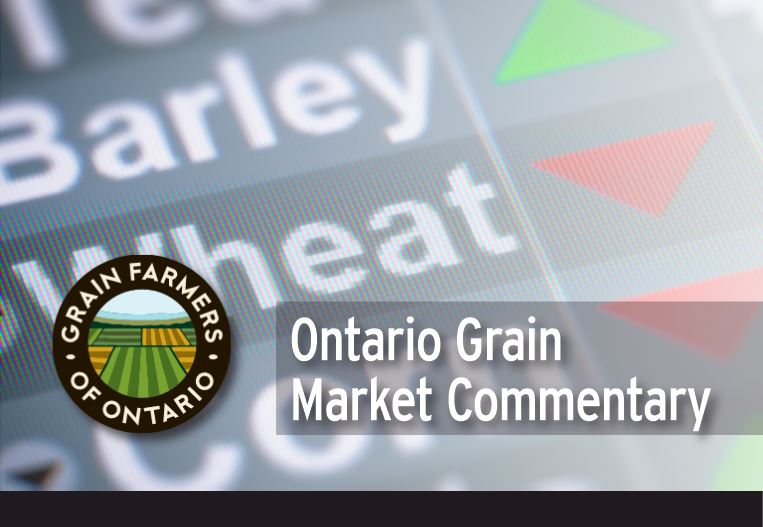 | | | | |
| --- | --- | --- | --- |
| COMMODITY | PERIOD | PRICE | WEEKLY MOVEMENT |
| Corn CBOT | Mar | 5.60 ½ | ↑   21 ¼ cents |
| Soybeans CBOT | Mar | 14.08 ¾ | ↑   42 cents |
| Wheat CBOT | Mar | 6.16 ¼ | ↑   14 ½ cents |
| Wheat Minn. | Mar | 6.24 ½ | ↑   22 ¾ cents |
| Wheat Kansas | Mar | 5.63 ¼ | ↑   4 ¾ cents |
| Oats CBOT | Mar | 3.71 ½ | ↑   3 cents |
|  |  |  |  |
| Canadian $ | Mar | 0.7925 | ↑   9 points |
CORN:
According to the USDA, the U.S. has planted 2% of the corn crop as of April 4, 2021. This pace is on par with the five-year-average. As for the state-by-state progress, Texas has planted 56% of the estimated corn acreage while most other states have yet to start planting corn.
SOYBEANS:
Brazil soybeans are 78% harvested as of last week, versus 83% last year, although this year's percentage matches the five-year-average. The beginning of the soybean harvest was slow due to late planting and excessive rainfall. More recently, the harvest pace has improved and with local weather forecasts calling for drier weather, the soybean harvest should continue at a rapid pace.
WHEAT:
Egypt's GASC has purchased 345,000 tonnes of wheat for an early August shipment. The purchase comprised of 290,000 tonnes of Russian wheat and 55,000 tonnes of Ukrainian wheat.
Saudi Arabia has a tender for 295,000 tonnes of wheat to be shipped between May and June 2021. The tender is to help meet local demand and to maintain strategic stocks.