Ontario Grain Market Commentary, December 16, 2020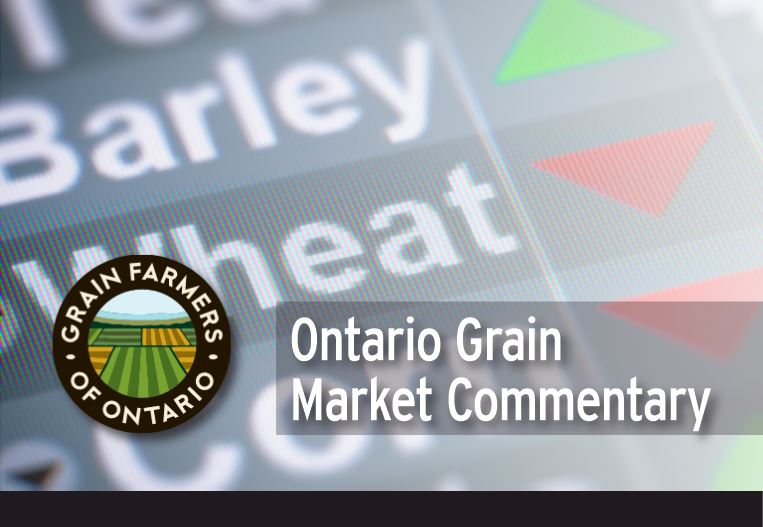 | | | | |
| --- | --- | --- | --- |
| COMMODITY | PERIOD | PRICE | WEEKLY MOVEMENT |
| Corn CBOT | Mar | 4.27 ¼ | ↑ 3 ½ cents |
| Soybeans CBOT | Jan | 11.83 ¼ | ↑ 25 ¼ cents |
| Wheat CBOT | Mar | 5.98 ½ | ↑ 15 ¼ cents |
| Wheat Minn. | Mar | 5.58 ¾ | ↑   3 cents |
| Wheat Kansas | Mar | 5.51 | ↑ 10 ½ cents |
| Oats CBOT | Mar | 3.36 | ↑ 8 ¼ cents |
| |  |  | |
| Canadian $ | Mar | 0.7837 | ↑ 32 points |
CORN:
Brazilian corn production is estimated to be 102.5 million tonnes this year. The full season corn crop is expected to be 24.1 million tonnes, down 2.4 million from November estimates, while the Safrinha corn crop estimate remains unchanged at 76.7 million tonnes.
The Ukraine has harvested 35.9 million tonnes of corn this year, up 100,000 tonnes from the previous year. In all, the Ukraine harvested 65.4 million tonnes of grains. Domestic demand is but a small fraction of this volume which allows the Ukraine to be a major exporter of grains in the region.
SOYBEANS:
Brazil has planted 95 million acres of soybeans this year compared to 91 million acres during the previous year. Early dryness which slowed planting and continued adverse weather conditions have led to reductions in production estimates. It is expected that production will decline 0.5 million tonnes from previous estimates to 134.4 million tonnes. Although production estimates have been lowered, they are still above production levels of last year.
The late planting will also mean a later harvest. This could mean that importers such as China will continue to rely on U.S. sourced soybeans well into the period where they normally switch over to buying South American beans.
WHEAT:
Australia's experts estimate that their wheat production will total 31.17 million tonnes, up nearly 8% from September figures. This would be the second largest wheat crop for Australia. Favourable rainfalls in September and October have benefited production this year. To date, the largest wheat crop was in the 2016/2017 crop year with the production of 31.8 million tonnes.
Wheat futures had a one-day rally on talk that Russia would impose a wheat-export tax in an effort to stabilize domestic prices. The export tax would be set at 25 euros a tonne between Feb 15 and June 30. This tax would be on top of the already established grain export quota of 1.75 million tonnes.