Ontario Grain Market Commentary, December 9, 2020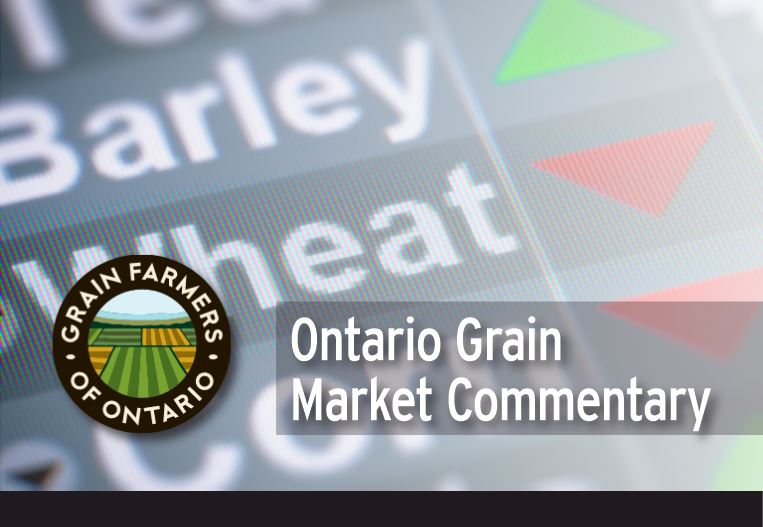 | | | | |
| --- | --- | --- | --- |
| COMMODITY | PERIOD | PRICE | WEEKLY MOVEMENT |
| Corn CBOT | Mar | 4.23 ¾ | Unchanged |
| Soybeans CBOT | Jan | 11.58 ½ | ↑   3 ¾ cents |
| Wheat CBOT | Mar | 5.83 ¼ | ↓   5 ¼ cents |
| Wheat Minn. | Mar | 5.55 ¾ | ↓   5 ½ cents |
| Wheat Kansas | Mar | 5.51 | ↓   2 ¾ cents |
| Oats CBOT | Mar | 3.27 ¾ | ↑   31 ¼ cents |
| |  |  | |
| Canadian $ | Mar | 0.7805 | ↑   67 points |
CORN:
Due to China's low domestic supplies of corn as well as high domestic prices, there is the expectation of continued imports of corn. Chinese officials have stated that the country has had a supply gap for the past several years and has been using reserve stocks to meet continued demand.
The USDA is forecasting that imports of corn could reach 22 million tonnes for the 2020-2021 marketing year. As of the beginning of November, China has contracted over 10 million tonnes of corn with the U.S.
SOYBEANS:
Brazil has imported 748,000 tonnes of soybeans this year; 122,000 in the month of November alone. This represents a twenty times increase from the previous November. Expectations are that Brazil will import over a million tonnes of soybeans this year.
Strong domestic demand combined with record exports have left the domestic supply extremely tight. Most of the soybeans have been imported from Uruguay. In addition, a vessel load has been purchased from the U.S.
WHEAT:
While Egyptian strategic reserves are sufficient for approximately five months of consumption, the General authority for supply commodities (GASC) continues to bid for wheat through their tendering process. Russian continues to be the cheapest course for wheat with 55,000 tonnes recently purchased at a price of $261.85 per tonne.
Egypt is aiming to produce over 10 million tonnes of wheat this year. They produced 9.5 million tonnes last year. This production is based on planting 3.63 million acres this year. Domestic harvest is expected to begin mid-April.