Ontario Grain Market Commentary, February 17, 2021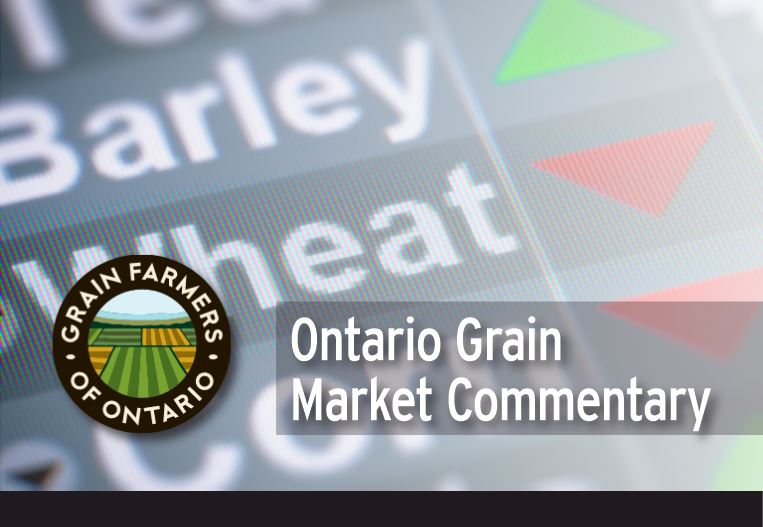 | | | | |
| --- | --- | --- | --- |
| COMMODITY | PERIOD | PRICE | WEEKLY MOVEMENT |
| Corn CBOT | Mar | 5.53 | ↑   18 ½ cents |
| Soybeans CBOT | Mar | 13.83 ¾ | ↑   29 ¾ cents |
| Wheat CBOT | Mar | 6.44 | ↑   8 ½ cents |
| Wheat Minn. | Mar | 6.23 | ↑   4 ¼ cents |
| Wheat Kansas | Mar | 6.24 ½ | ↑   10 ½ cents |
| Oats CBOT | Mar | 3.52 ¾ | ↑   4 ½ cents |
|  |  |  |  |
| Canadian $ | Mar | 0.7876 | ↓   3 points |
CORN:
The Brazil Safrinha corn planting continues to progress slowly. The ideal planting window is closing, and it is estimated that the majority of the Safrinha corn crop will be planted after the ideal planting dates. The Safrinha corn crop is estimated to be 35.4 million acres, an increase of 4% from last year. This crop accounts for roughly 75% of the total Brazilian corn production.
As of February 11, the U.S. has booked 697 million bushels of corn to China. Last year at this time the U.S. had booked 2.4 million bushels to China.
SOYBEANS:
The National Oilseed Processors Association (NOPA) reported that soybean crush was 184.7 million bushels for the month of January. This is up 4% from this time last year and exceeded the trade estimates of 183.087 million bushels. Daily crushing rates are averaging nearly 6 million bushels per day. Total crush since the beginning of the marketing year in September is 896 million bushels. Ending stocks of U.S. soybeans are expected to be the tightest in years. NOPA members account for 95 percent of all soybeans processed in the U.S.
WHEAT:
Wheat futures climbed higher recently on fears that cold temperatures in the U.S. plains may have damaged winter wheat. Last week, Commodity Weather Group estimated that 10% of the U.S. soft wheat crop and 15% of the U.S. hard red wheat crop were at risk of damage from winterkill due to freezing temperatures. In areas lacking adequate snow cover, prolonged cold temperatures can adversely affect wheat, although it is too early to tell if there has been damage to the U.S. winter wheat crop.