Ontario Grain Market Commentary, February 3, 2021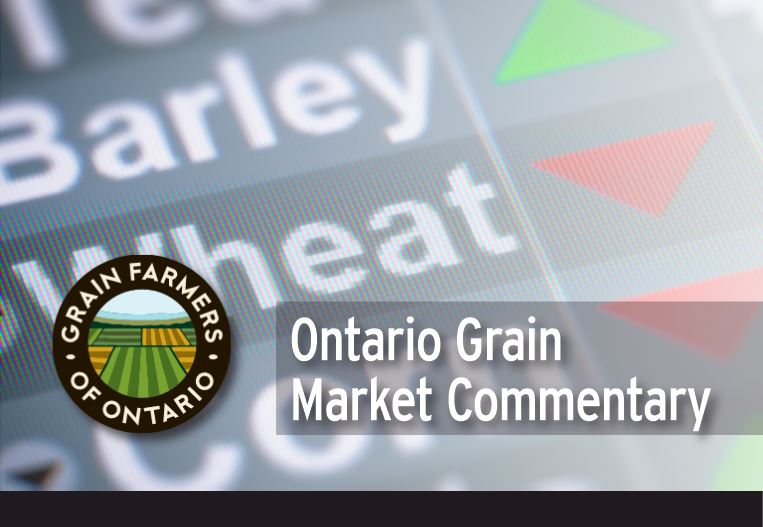 | | | | |
| --- | --- | --- | --- |
| COMMODITY | PERIOD | PRICE | WEEKLY MOVEMENT |
| Corn CBOT | Mar | 5.52 | ↑ 18 cents |
| Soybeans CBOT | Mar | 13.71 ¼ | ↓ 3 ½ cents |
| Wheat CBOT | Mar | 6.48 ¼ | ↓ 10 cents |
| Wheat Minn. | Mar | 6.25 | ↓ 7 ¾ cents |
| Wheat Kansas | Mar | 6.25 ½ | ↓ 11 ¼ cents |
| Oats CBOT | Mar | 3.49 | ↓ 3 ½ cents |
|  |  |  |  |
| Canadian $ | Mar | 0.7829 | ↑ 5 points |
CORN:
Mexico's corn imports could fall by 9 percent, or 1.5 million tonnes, this year. The Mexican government is trying to boost local production while at the same time discouraging the use of genetically modified grains. The government is looking to substitute 30% of Mexico's current volume of imports with national production by the year 2024. Mexican corn farms are much smaller than U.S. or Canadian farms and yields are much lower as well.
SOYBEANS:
The U.S. Department of Agriculture has forecast Brazilian soybean production to be 133 million tonnes. Harvest has been slow thus far, with approximately 2 percent harvested, versus 9 percent last year at this time. There is also talk of a potential strike by truck drivers, which would disrupt deliveries to ports. The vessel line-up to load soybeans out of Brazilian ports has increased to almost 9 million tonnes. Shipments that were scheduled for January have been pushed into February, and it is likely that most of the February shipment will be pushed to March.
WHEAT:
Total wheat production in the EU and the UK is expected to reach 147 million tonnes for this marketing year. This would be an increase of 8% over the past year. France, the EU's largest wheat exporting country, is expected to produce 37 million tonnes of wheat.
U.S. milling of whole wheat flour is down 10% from 2019, according to the National Agricultural Statistics Service of the USDA. Whole wheat flour production has fallen for three consecutive years.