Ontario Grain Market Commentary, January 6, 2021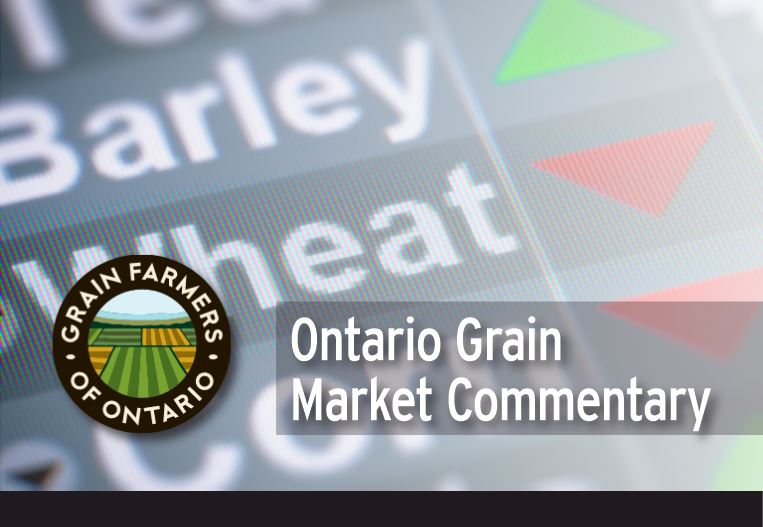 | | | | |
| --- | --- | --- | --- |
| COMMODITY | PERIOD | PRICE | WEEKLY MOVEMENT |
| Corn CBOT | Mar | 4.95 | ↑ 20 ½ cents |
| Soybeans CBOT | Mar | 13.61 ½ | ↑ 61 cents |
| Wheat CBOT | Mar | 6.47 ½ | ↑ 6 ¾ cents |
| Wheat Minn. | Mar | 6.06 ¼ | ↑ 10 cents |
| Wheat Kansas | Mar | 6.03 ½ | ↑ 18 ½ cents |
| Oats CBOT | Mar | 3.59 ¾ | ↑ 10 ¾ cents |
|  |  |  |  |
| Canadian $ | Mar | 0.7885 | ↑ 49 points |
CORN:
As the county deals with food price inflation, Argentina has suspended corn exports until March of this year, in an effort to protect domestic supplies. In the 2019/2020 marketing year, Argentina had exported 34.2 million tonnes of corn which accounted for nearly a quarter of all global exports for that time period. The CBOT corn futures rose to a 6 and a half year high after Argentina made the announcement.
SOYBEANS:
Since the beginning of the new marketing year in September, U.S. soybean crush has been strong.  In the months of October and November, crush numbers came in above 180 million bushels.  Exports have been equally strong during this time period.  As a result, soybean futures have climbed to levels not seen since early 2014. As demand continues to grow, we may see future values continue to climb in order to further ration demand.
WHEAT:
Due to an upcoming wheat export tax, Russia has lowered its expected wheat exports from 40.8 million tonnes to 36.3 million. This tax will be implemented to help stabilize domestic food prices.  As a result, Black Sea wheat values are at a six-year high.  Demand for wheat remains strong as importing countries look to maintain or increase stockpiles in order to ensure domestic food security.  This increased demand should help support higher prices.