Ontario Grain Market Commentary, July 8, 2020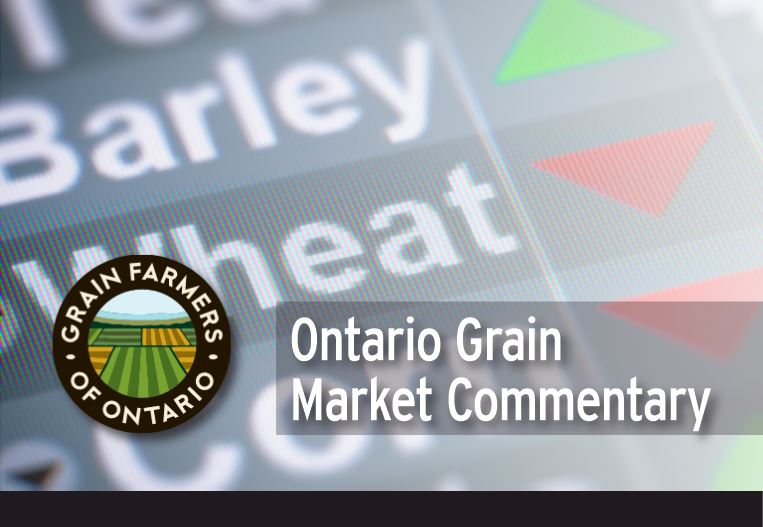 | | | | |
| --- | --- | --- | --- |
| COMMODITY | PERIOD | PRICE | WEEKLY MOVEMENT |
| Corn CBOT | Sept | 3.46¼ | ↓ 4 ¼ cents |
| Soybeans CBOT | Sept | 8.92½ | ↑ 1 ¼ cent |
| Wheat CBOT | Sept | 5.16½ | ↑ 18 cents |
| Wheat Minn. | Sept | 5.23¼ | ↑ 5 ¾ cents |
| Wheat Kansas | Sept | 4.56¾ | ↑ 14 cents |
| Oats CBOT | Sept | 2.88¾ | ↓ 2 ½ cents |
| | | | |
| Canadian $ | Sept | 0.7410 | ↑ 48 points |
Corn
U.S. corn crop progress report indicates that 71% of the corn crop is rated good-to-excellent. This is down from 73% a week ago. Given the hot dry weather, it is not really a surprise that condition ratings have fallen. The U.S. corn belt, much like Ontario, could use some timely rains very soon. 10 percent of the corn is in the silk growth stage. The five-year average is 16%
Brazil's Conab has cut its corn production estimates for their 2019-2020 crop to be 100.56 million tonnes, down 430,000 tonnes from their previous estimates. The cut in production is due to irregular rainfall and severe drought in some of the major corn producing regions in Brazil.
Soybeans
Soybean progress report shows that soybeans remain at 71% good-to-excellent, unchanged from a week ago. 31% of the U.S, soybean crop is in the blooming stage. The five-year average is 24%.
Growth in the Chinese swine and poultry industries are expected to increase soybean meal demand for feed use. The USDA is forecasting that China will import 91 million tonnes this year. This is an increase of 5 million tonnes from the USDA's March estimates.
Wheat
As of Sunday July 5, the U.S. had harvested 56% of their winter wheat crop. Winter wheat harvest has started in a few counties in Ontario, but at the time of writing this article, I have no data on yields or quality of the wheat harvested.
The USDA's quarterly stock report on June 30 estimates that winter wheat stocks are 1.044 billion bushels. This was a decrease of nearly 36 million bushels from 2019.
2020 harvest prices for July 8, 2020, at the market close, are as follows:
SWW at $243.71/mt ($6.63/bu), HRW at $256.11/mt ($6.97/bu) + protein,
HRS at $ 237.14/mt ($6.45/bu) + protein, and SRW at $243.71 /mt ($6.63/bu).
We offer on farm bids for 2020 wheat and 2021 harvest prices as well, please call 1-800-265-0550 for more information.