Ontario Grain Market Commentary, June 10, 2020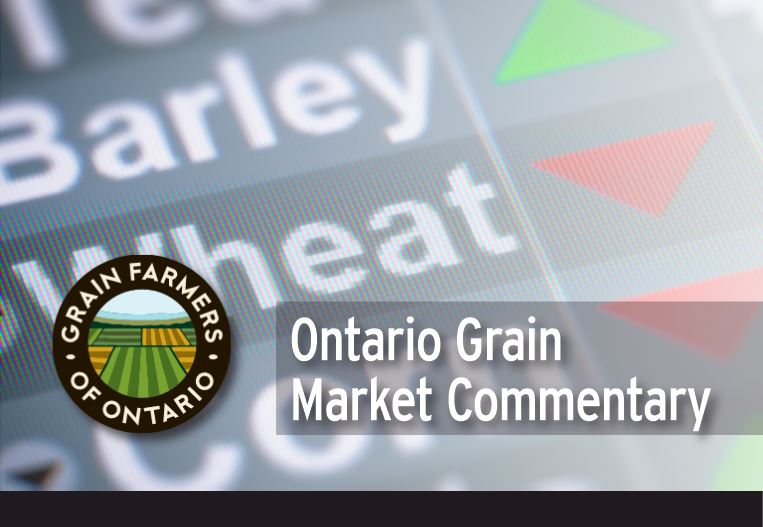 | | | | |
| --- | --- | --- | --- |
| COMMODITY | PERIOD | PRICE | WEEKLY MOVEMENT |
| Corn CBOT | July | 3.26 ¼ | ↑ 2 ¼ cents |
| Soybeans CBOT | July | 8.65½ | ↑ 8 cents |
| Wheat CBOT | July | 5.06¼ | ↓ 5 ¼ cents |
| Wheat Minn. | July | 5.19½ | ↓ 1 ¼ cents |
| Wheat Kansas | July | 4.57½ | ↓ ¼ cent |
| Oats CBOT | July | 3.13½ | ↓ 18 ¼ cents |
| | | | |
| Canadian $ | June | 0.7501 | ↑  87 points |
Corn
The USDA estimates that 97% of the corn crop has been planted. This is ahead of the five-year average of 94%. Of the corn that has been planted, 89% has emerged. The corn crop condition rating is 75% good-to-excellent.
With a predicted increase in global coarse grain production, the U.S. is expected to face strong global export competition. The U.S is anticipating to have 30% of the global corn trade while Argentina, Brazil, and the Ukraine are expected to have a combined share of the export market of 58%.
Soybeans
U.S. soybeans are 86% planted, ahead of the five-year average of 79%. Emergence is 67%. The crop condition rating is 72% good-to-excellent.
According to reports, China has purchased 120,000 tonnes of U.S. soybeans for December shipment. This recent Chinese demand has led to gains in the Chicago soybeans futures.
Since February, Brazil has exported 47.8 million tonnes of soybeans, up 44% on the year. Brazil's export pace makes one wonder if it will either slow down exports in the near future or look to import soybeans for domestic use.
Wheat
U.S. winter wheat is 7% harvested.
Recent rains and locally strong wheat prices are being credited for the anticipated increase in wheat planting in Brazil. Brazil is expected to plant 5.4 million acres of wheat this year. This would represent an increase of nearly 7% from last year.
Australia has recently revised its wheat production by more than 25% after rains broke a multi-year drought along the east coast. Production has been increased from 21.3 million tonnes to 26.7 million tonnes.
2020 harvest prices for June 10, 2020, at the market close, are as follows:
SWW at $239.37/mt ($6.51bu), HRW at $251.68/mt ($6.85 /bu) + protein,
HRS at $ 237.04/mt ($6.45/bu) + protein, and SRW at $239.37 /mt ($6.51/bu).
We offer on farm bids for 2020 wheat and 2021 harvest prices as well, please call 1-800-265-0550 for more information.
Todd Austin, Grain Farmers of Ontario