Ontario Grain Market Commentary, June 24, 2020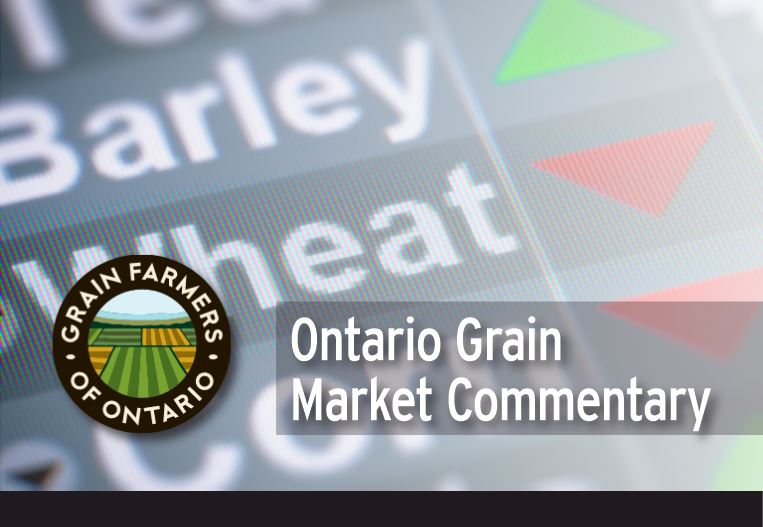 | | | | |
| --- | --- | --- | --- |
| COMMODITY | PERIOD | PRICE | WEEKLY MOVEMENT |
| Corn CBOT | July | 3.24¼ | ↓ 6 cents |
| Soybeans CBOT | July | 8.70¾ | ↓ ½ cent |
| Wheat CBOT | July | 4.81¼ | ↓ 7 ½ cents |
| Wheat Minn. | July | 5.16¼ | ↓ 4 cents |
| Wheat Kansas | July | 4.31¼ | ↓ 1 ¼ cent |
| Oats CBOT | July | 3.04¾ | ↓ 2 ½ cents |
| | | | |
| Canadian $ | June | 0.7350 | ↓ 23 points |
Corn
Corn futures have recently lost ground due to weak demand and an improved weather outlook across the U.S. Midwest. As fuel demand remains low, demand for corn for ethanol production will likewise remain low.
The USDA had rated corn as 72% good-to-excellent, up one percentage point from the previous week and also above what the trade was expecting.
Soybeans
Chinese port stocks of soybeans fell to their lowest levels in the past decade in March of this year. These stocks have now almost doubled, reaching 6.5 million tonnes by mid-June.
Reuters has recently reported that Chinese importers have asked exporters in the U.S., Brazil, and Canada to sign a letter guaranteeing that their cargo are not contaminated with coronavirus. There has been rising fear in China that food imports may lead to outbreaks of COVID-19.
Wheat
U.S. winter wheat harvest was 29% complete for the week ending June 21. This pace is 6% ahead of last year at this time and 3 percentage points above the five-year average. The winter wheat crop condition improved this week, from last week, as 52% of the crop is considered good-to-excellent.
U.S. Spring wheat condition is reported to be 75% good-to-excellent, down from last week as dry conditions are present in many of the wheat production states. North Dakota for instance has had its spring wheat ratings fall from 84% good-to-excellent down to 78% in two weeks.
2020 harvest prices for June 24, 2020, at the market close, are as follows:
SWW at $230.33/mt ($6.27bu), HRW at $242.82/mt ($6.61 /bu) + protein,
HRS at $ 239.58/mt ($6.52/bu) + protein, and SRW at $230.33 /mt ($6.27/bu).
We offer on farm bids for 2020 wheat and 2021 harvest prices as well, please call 1-800-265-0550 for more information.
Todd Austin, Grain Farmers of Ontario