Ontario Grain Market Commentary, March 10, 2021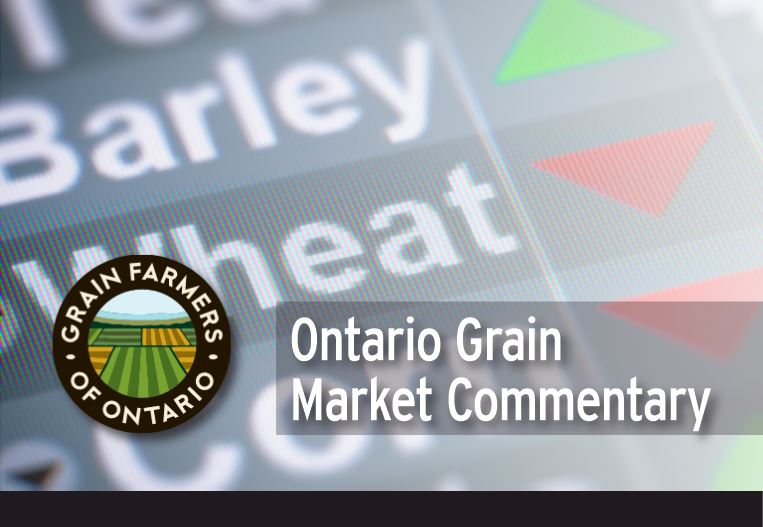 | | | | |
| --- | --- | --- | --- |
| COMMODITY | PERIOD | PRICE | WEEKLY MOVEMENT |
| Corn CBOT | Mar | 5.34 | ↓ 1 ¼ cents |
| Soybeans CBOT | Mar | 14.09 ¾ | ↑ 2 ¼ cents |
| Wheat CBOT | Mar | 6.52 ½ | ↓ 3 ¼ cents |
| Wheat Minn. | Mar | 6.41 ¼ | ↓ 1 ¾ cents |
| Wheat Kansas | Mar | 6.16 ½ | ↓ 9 ½ cents |
| Oats CBOT | Mar | 3.84 ½ | ↑ 18 ½ cents |
|  |  |  |  |
| Canadian $ | Mar | 0.7921 | ↑ 7 points |
CORN:
The USDA has projected the U.S. corn carryout to be 1.50 billion bushels. This figure is unchanged from the February report but higher than the wheat trade was anticipating. Increased demand this year has resulted in a smaller carryout than that of the past few years.
Global corn carryout was estimated to be 287.7 million metric tonnes (mmt) which was up 1.14 mmt from the February report.
SOYBEANS:
The USDA has kept the estimate of soybean carryout at 120 million bushels. The trade was expecting a carryout closer to 117 million bushels. If the USDA's figure is realized at the end of the crop year, it will be the tightest since 2014.
Brazilian soybean harvest is 34% complete versus 52% last year. Continued wet weather in parts of Brazil could affect soybean quality, although these quality concerns will not be fully known until the crop has been harvested.
WHEAT:
According to the March USDA report, global wheat stocks decreased, despite a 3.5 mmt increase in global production. Of note was the USDA's estimate of Chinese wheat imports for the 20/21 crop year. Figures are indicating that China may import 10.5 million tonnes of wheat, nearly double the volume of imports from the previous year.