Ontario Grain Market Commentary, March 17, 2021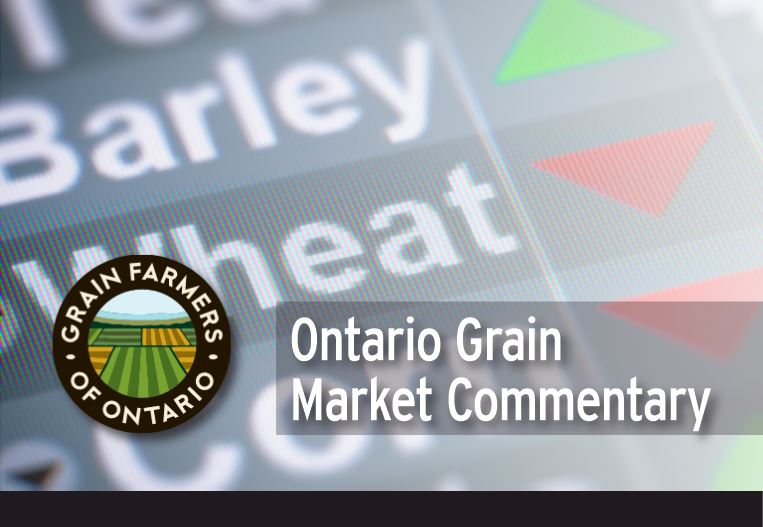 | | | | |
| --- | --- | --- | --- |
| COMMODITY | PERIOD | PRICE | WEEKLY MOVEMENT |
| Corn CBOT | Mar | 5.58 | ↑   24 cents |
| Soybeans CBOT | Mar | 14.17 ¾ | ↑   8 cents |
| Wheat CBOT | Mar | 6.40 | ↓   12 ½ cents |
| Wheat Minn. | Mar | 6.33 ¼ | ↓   8 cents |
| Wheat Kansas | Mar | 6.01 | ↓   15 ½ cents |
| Oats CBOT | Mar | 3.17 ½ | ↓   13 cents |
|  |  |  |  |
| Canadian $ | Mar | 0.8058 | ↑   137 points |
CORN:
China has just recently purchased 1.156 million tonnes of U.S. corn.  This is the largest corn purchase since the same country bought 2.1 million tonnes back in January of this year. In total, China has purchased nearly 20 million tonnes of corn.  However, shipments are lagging sales; approximately 40% of the sales have been shipped to date.  The USDA has estimated that China will import 24 million tonnes of corn globally in this current marketing year.
SOYBEANS:
Brazil soybeans are 46% harvested, up 11% from last week, but still well below the previous year's pace of 59%. Mata Grosso is 80% complete while the state of Parana is only 39% complete.  Despite this, the Brazilian Association of oilseed industries estimate soybean production to total 134.8 million tonnes this year, with an estimate of 84 million tonnes to be exported globally.
WHEAT:
The international Grains Council (IGC) raised their forecast for global wheat production for the 2020 / 2021 season in response to increased production revisions for Australia, Kazakhstan, and Russia. The IGC raised global production estimates by 5 million tonnes to 773 million tonnes. Australian production was increased to 33.3 million tonnes. Kazakhstan's production is now expected to be 14.3 million tonnes, and Russia's crop is estimated to be 85.3 million tonnes.  The IGC outlook for the 2021 / 2022 crop remains unchanged at 790 million tonnes.