Ontario Grain Market Commentary, March 31, 2021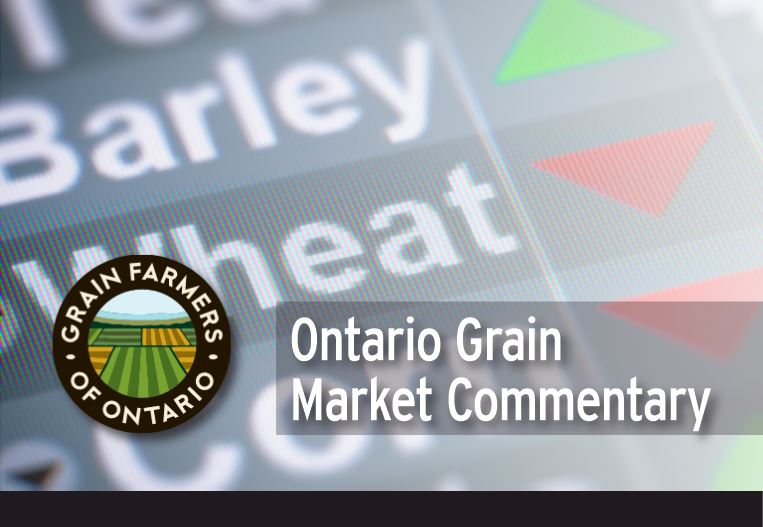 | | | | |
| --- | --- | --- | --- |
| COMMODITY | PERIOD | PRICE | WEEKLY MOVEMENT |
| Corn CBOT | Mar | 5.39 ¼ | ↓   14 cents |
| Soybeans CBOT | Mar | 13.66 ¾ | ↓   66 cents |
| Wheat CBOT | Mar | 6.01 ¾ | ↓   23 cents |
| Wheat Minn. | Mar | 6.01 ¾ | ↓   25 ¼ cents |
| Wheat Kansas | Mar | 5.58 ½ | ↓   16 ¾ cents |
| Oats CBOT | Mar | 3.68 ½ | ↓   13 cents |
|  |  |  |  |
| Canadian $ | Mar | 0.7916 | ↓   46 points |
CORN:
A Reuters poll forecasts that farmers plan to seed 93.208 million acres of corn this year. Strong demand from China has helped solidify corn acreage intentions. There is a USDA prospective plantings report due out on March 31, which traders will be watching closely. U.S. corn carryout has tightened considerably in recent years, therefore a more substantial crop would help rebuild stocks.
Demand is still very strong for U.S corn.  For the week ending March 18, The USDA reported corn sales totaling 4.48 million tonnes, up 396,000 tonnes from the week prior. The main buyers were China, South Korea, and Mexico.  Exports for the same week were just over 2 million tonnes.
SOYBEANS:
Soybean futures have fallen over the past few days on expectations of larger U.S. plantings this spring. It is expected that 90 million acres of soybeans will be planted, and if realized, this will be larger than the 83.10 million acres planted last year.
According to the Buenos Aires grain exchange, the Argentinian soybean harvest is expected to be 44 million tonnes. Argentine farmers have sold 12.45 million tonnes of the 2020 /2021 crop. This selling pace is slower than last year, when 7.45 million tonnes had been sold by this point in time.
WHEAT:
Egyptian farmers are expected to harvest 9 million tonnes of wheat this year. Domestic consumption is forecast to be 21.3 million tonnes, up 2.4% from last year. To meet demand, an estimated 13.2 million tonnes of wheat will need to be imported.
U.S. wheat futures are trending down to a 3-month low. Favourable weather in many of the major wheat producing areas, along with adequate supply have been adding pressure to these futures markets.