Ontario Grain Market Commentary, November 11, 2020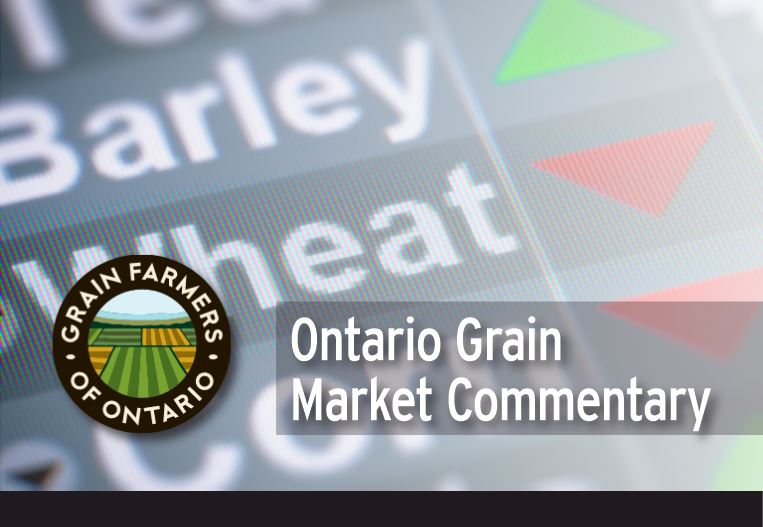 | | | | |
| --- | --- | --- | --- |
| COMMODITY | PERIOD | PRICE | WEEKLY MOVEMENT |
| Corn CBOT | Dec | 4.17 ¼ | ↑   12 cents |
| Soybeans CBOT | Jan | 11.52 ½ | ↑   76 ¼ cents |
| Wheat CBOT | Dec | 5.98 | ↓   8 cents |
| Wheat Minn. | Dec | 5.55 | ↓   2 cents |
| Wheat Kansas | Dec | 5.54 ¼ | ↓   5 ½ cents |
| Oats CBOT | Dec | 3.03 ¾ | ↑   7 cents |
| | | | |
| Canadian $ | Sept | 0.7653 | ↑   36 points |
CORN:
According to the November WASDE report, the USDA reduced U.S. corn yields from 178.4 to 175.8 bushels per acre. Production was then estimated at 215 million bushels less than the September estimates. Exports were increased by 325 million bushels.  Carryout was projected at 1.7 billion bushels, down 465 million bushels from the previous month and below trade estimates.  This would be the smallest carryout in over 5 years.
The Ukraine is expected to harvest between 26 and 33 million tonnes of corn this year. These figures are down from last year's 36 million tonnes. Drought through the summer months reduced the harvested area and the corn yield significantly.
SOYBEANS:
The USDA reduced the soybean yield estimate to 50.7 bushels per acre. This lowered production by 98 million bushels. With little change in the demand of U.S. soybeans, carryout was reduced by 100 million bushels to 190 million.
Brazil has recently reported that it is importing soybeans from the U.S, in order to meet domestic crushing needs. Brazil has a very tight domestic supply as it has been aggressively selling beans to the export markets. Of the soybeans sold to China between April and September of this year, 86% originated from Brazil.
WHEAT:
The USDA report for U.S. wheat remained virtually unchanged from one month prior. There was a 5 million bushel increase in domestic food use and a 6 million bushel cut to the carryout bringing it to a level of 877 million bushels.
Saudi Arabia has purchased 860,000 tonnes of wheat for shipment between February and March of 2021. This wheat would help meet local demand and to maintain strategic stocks. According to Saudi sources, the average price was $277.53 per tonne for wheat with a protein of 12.5%.
2020 crop year prices for November 11, 2020, at the market close, are as follows:
SWW at $270.31/mt ($7.36/bu), HRW at $277.51/mt ($7.55/bu) + protein,,
HRS at $ 249.67/mt ($6.79/bu) + protein, and SRW at $270.31/mt ($7.36/bu).
We offer on farm bids for 2020 wheat and 2021 harvest prices as well, please call 1-800-265-0550 for more information.