Ontario Grain Marketing Commentary, May 13, 2020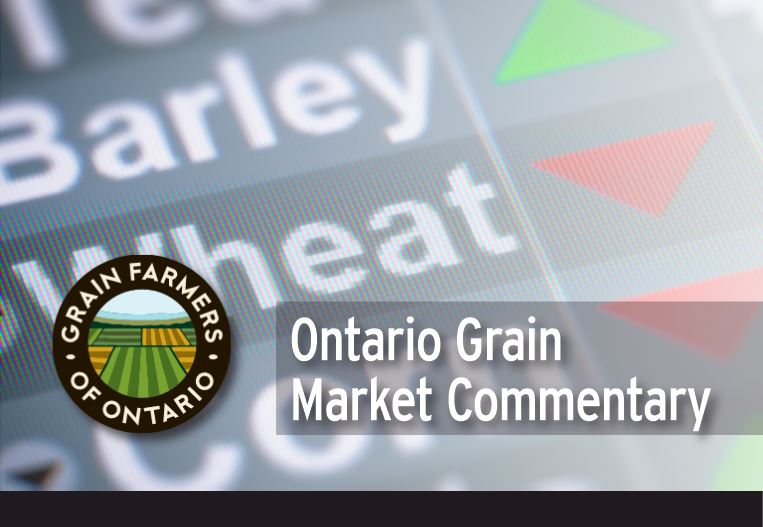 | | | | |
| --- | --- | --- | --- |
| COMMODITY | PERIOD | PRICE | WEEKLY MOVEMENT |
| Corn CBOT | July | 3.18¼ | ↑ 4 cents |
| Soybeans CBOT | July | 8.39½ | ↑ 7 cents |
| Wheat CBOT | July | 5.01¾ | ↓ 15 ¾ cents |
| Wheat Minn. | July | 5.08¼ | ↑ ½ cent |
| Wheat Kansas | July | 4.54¼ | ↓ 23 ¼ cents |
| Oats CBOT | July | 3.05½ | ↑ 14 cents |
| | | | |
| Canadian $ | June |     0.7094 | ↑  14 points |
Corn
The U.S. corn crop is 67% planted, up 16% from last week. Last year at this time, the U.S. planting was an anemic 28% complete.
The latest USDA report indicated that the 2020/2021 corn carryout could be 3.317 billion bushels. The current crop is expected to have an ending inventory of 2.098 billion bushels.
In Ontario, provincially the corn planting is 90-95% complete, but there are areas that are well below this threshold.
Soybeans
U.S. soybean planting is 38% complete, up from 23% last week. With the projected acreage and trend-line yields, the soybean crop is expected to be 4.13 billion bushels. Demand, both domestic and export are anticipated to be strong this upcoming marketing year. As a result, ending inventory is expected to be 405 million bushels. This is a decrease from of 176 million bushels from last year.
Planting in Ontario is 30-40% complete, but again there are pockets well below this rate and pockets where planting is above this pace.
Wheat
U.S. winter wheat production is expected to be 1.255 billion bushels, down 49.403 million bushels from 2019. Soft red winter wheat production is forecast at 297.527 million bushels, up 24% from last year. Soft white winter wheat production is targeted at 207.464 million bushels, down 2% from last year. Hard red winter wheat is anticipated at 733.409 million bushels, down 12% from last year.
U.S. spring wheat is 42% planted, up from 29% last week. This pace is behind the five-year average of 63 percent.
2019 cash prices for May 13, 2020, at the market close, are as follows:
SWW at $265.05/mt ($7.21bu), HRW at $272.83/mt ($7.43 /bu),
HRS at $ 239.94/mt ($6.53/bu), and SRW at $265.05 /mt ($7.21/bu).
We currently offer 2020 and 2021 harvest prices as well, please call 1-800-265-0550 for more information.