Ontario Grain Market Commentary, January 27, 2021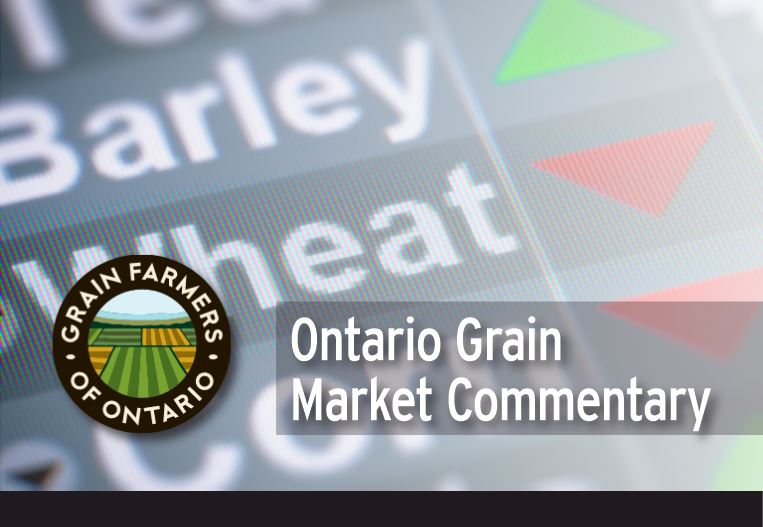 | | | | |
| --- | --- | --- | --- |
| COMMODITY | PERIOD | PRICE | WEEKLY MOVEMENT |
| Corn CBOT | Mar | 5.34 | ↑ 12 cents |
| Soybeans CBOT | Mar | 13.74 ¾ | ↑ 5 ¼ cents |
| Wheat CBOT | Mar | 6.58 ¼ | ↓ 9 ½ cents |
| Wheat Minn. | Mar | 6.32 ¾ | ↓ 4 ¾ cents |
| Wheat Kansas | Mar | 6.36 ¾ | ↓ ¼ cents |
| Oats CBOT | Mar | 3.52 ½ | ↓ 11 ½ cents |
|  |  |  |  |
| Canadian $ | Mar | 0.7824 | ↓ 85 points |
CORN:
China has been reported to have purchased 1.6 million tonnes of U.S. corn for delivery in this marketing year. It is now the fifth time since 1994 that China has exceeded 1 million tonnes in a single day. In the USDA's recent weekly Export Sales report, exports and undelivered sales of U.S. corn to China for delivery in the 2020-2021 marketing year total 11.8 million tonnes. China has also been reported to have purchased 200 million gallons of U.S. ethanol for shipment in the first half of this year. Futures markets have responded to this recent news by posting a 2-week high.
SOYBEANS:
Brazilian soybean harvest sits at 1 percent complete as of last week compared to over 4 percent last year. Recent rains have delayed early bean harvest. However later maturing beans should benefit from this moisture. The slow harvest pace in Brazil has supported soybean futures values.
U.S. crush plants have been booking soybean purchases well beyond their normal supply due to rising export demand and rising prices. There are fears of soybean shortages later this marketing year. Some crush plants have booked their soybean needs for the next 60 days rather than just their usual 30 to 40 days. U.S. soybean supplies are forecast to reach a seven -year low by the end of the marketing year, even with a large harvested crop, due to record U.S. crush and exports this year.
WHEAT:
Argentina is working to ensure ample domestic wheat supplies. They are the 7th largest wheat exporting country, with the majority of exports going to neighbouring Brazil. Of the 17.2 million tonnes of wheat harvested this year, 10 million tonnes will likely be exported. To date, official data indicated that exporters have purchased 8.9 million tonnes. Argentina may limit exports in an effort to slow increases in domestic food prices.
Australia is expected to harvest 31 million tonnes of wheat this year. This figure is more that twice the amount harvested last year as drought limited production an estimated 15 million. A grain handler in the New South Wales region is reported to have deliveries of 8.4 million tonnes so far this year compared to 500,000 tonnes last year at this time.