Ontario Grain Market Commentary, November 18, 2020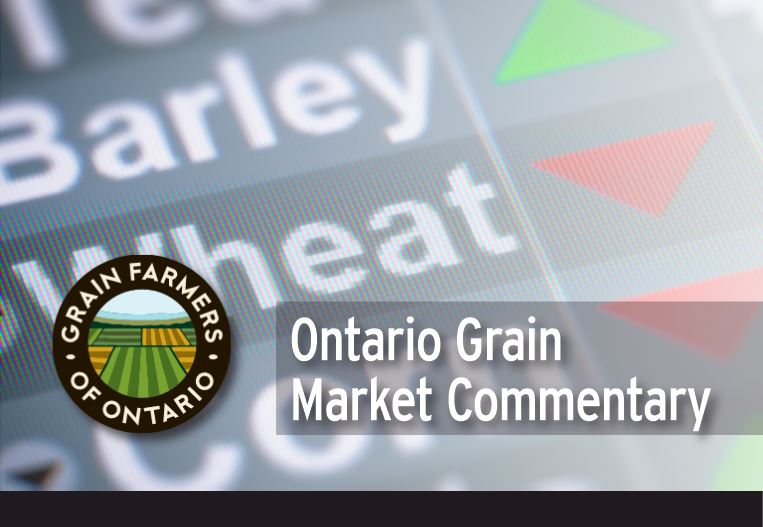 | | | | |
| --- | --- | --- | --- |
| COMMODITY | PERIOD | PRICE | WEEKLY MOVEMENT |
| Corn CBOT | Dec | 4.25 ¾ | ↑ 8 ½ cents |
| Soybeans CBOT | Jan | 11.75 ¾ | ↑ 23 ¼ cents |
| Wheat CBOT | Dec | 5.97 ¾ | ↓ ¼ cents |
| Wheat Minn. | Dec | 5.50 ¼ | ↓ 4 ¾ cents |
| Wheat Kansas | Dec | 5.57 ¾ | ↑ 3 ½ cents |
| Oats CBOT | Dec | 2.97 ½ | ↓   6 ¼ cents |
| |  |  | |
| Canadian $ | Sept | 0.7663 | ↑ 10 points |
CORN:
The US corn harvest is more or less complete as approximately 95% of the crop has been harvested. Favourable weather conditions have helped with the harvest pace this year as harvest is well ahead of the 5-year average of 87%.
According to the US department of Agriculture, total corn use for ethanol production in September dropped 3% from August, and 1% from last September. Markets will be watching the Thanksgiving holiday gas demand as a bellwether for ethanol demand during the remainder of 2020 and into the new year.
SOYBEANS:
US soybean harvest is 96% complete, just slightly ahead of the 5-year average of 93%. A number of states are reported to be 100% complete.
Soybeans futures have made new highs recently on strong demand from exporters and domestic users. The fact that recent USDA reports are indicating a tightening of stocks is also a factor in the stronger Chicago prices.
WHEAT:
The USDA has rated the US winter wheat crop as 46% good-to-excellent, up one percentage point from last week. Emergence is 85%, also up 1% from the previous week.
Prolonged drought in Argentina has that country lowering its wheat production forecast. Current estimates place wheat production at 16.7 million tonnes as 600,000 ha (1.48 million acres) have been abandoned. Argentina's wheat production last year was 19.7 million tonnes.
2020 crop year prices for November 18, 2020, at the market close, are as follows:
SWW at $269.84/mt ($7.34/bu), HRW at $277.03/mt ($7.54/bu) + protein,
HRS at $ 247.06/mt ($6.72/bu) + protein, and SRW at $269.84/mt ($7.34/bu).
We offer on farm bids for 2020 wheat and 2021 harvest prices as well, please call 1-800-265-0550 for more information.